Strongvault is endorsed as an online backup tool. It works the way as promoted giving user an various options for online storage and capacity. All it requires is an account at Strongvault in order to use the allocated space for each user. The program works as any other online backup software; however, there are some discussions about the reliability of Strongvault if installed into the computer. One example is a Microsoft forum wherein many users complaints of difficulty in removing the program.
Strongvault Online Backup may enter the computer together with a 'wanted' program that you may download from various web sites. Since it is a package, you will not notice that there are two or more programs being installed using a single exetutable file. Most people only realized about the changes when the install process has finished. In this case, you will see Strongvault icons on the desktop and Windows task bar.
This post was created not to evaluate Strongvault, rather, we wanted to show you some options in removing the program from the computer. Please follow the instructions on this page to completely remove all files and components of this software.
Screenshot Image: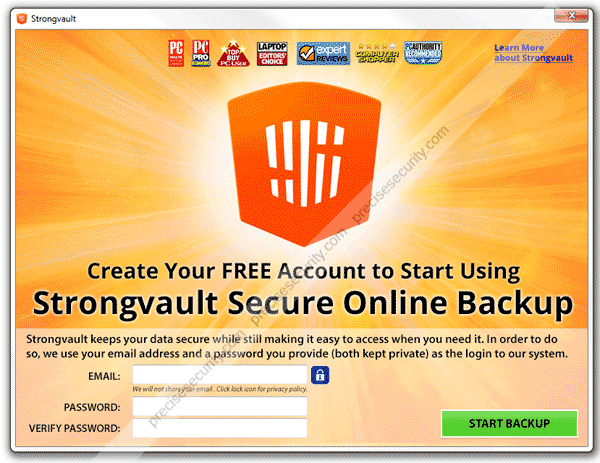 How to remove  Strongvault
1. Click on Start, and then select Control Panel.
2. Locate Programs section. Click on Uninstall a program. This will open a new window showing all installed applications.
3. Select Strongvault Online Backup from the list. Next, click on Uninstall button to start the removal process.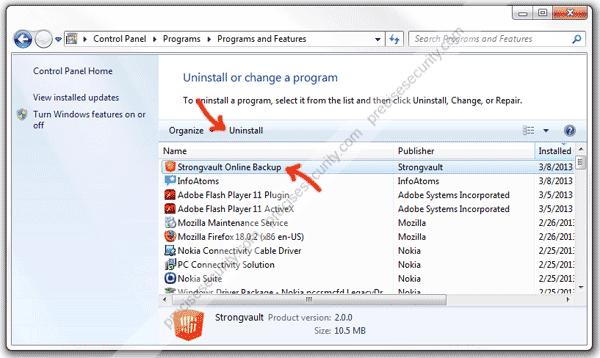 4. That should remove the program from Windows. Usually, after successful removal, it will open a browser window taking survey. Please see image below for your reference.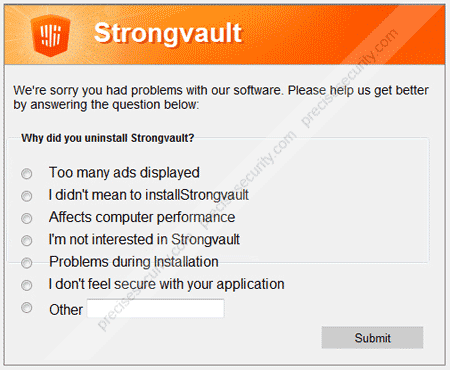 Having problems uninstalling Strongvault?
There has been discussion on some community forums that some users are having difficulty in removing Strongvault. If Windows add/remove program fails to delete all components, you may follow these instructions.
Option 1: Use Microsoft Fixit Tool
1. Open your Internet browser program.
2. Browse the page http://support.microsoft.com/fixit.
3. Go to number 3, 'View or run solutions'. On Filter Solutions box, please type Uninstall.
4. It will display one solution called "Fixed problems with programs that can't be installed or uninstalled". Click on the button Run Now.

5. If it prompts if you want to save and run MicrosoftFixit, click Run. It may take several seconds to load the tool.
6. Once loaded, it will show the Microsoft License Agreement window. Just click Accept. The program will proceed with the installation process.
7. If you receive a prompt from 'Program Install and Uninstall Troubleshooter', please select Detect problems and let me select the fixes to apply.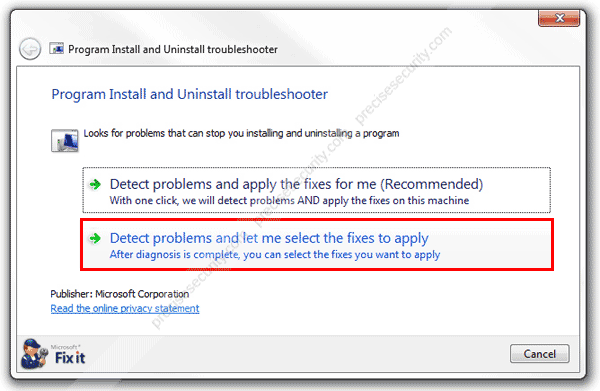 8. On the next prompt, click Uninstalling, since we are having problems removing the software. It will carry on detecting issues on the PC.
9. It will display a list of all installed programs on your computer. Look for Strongvault and click Next.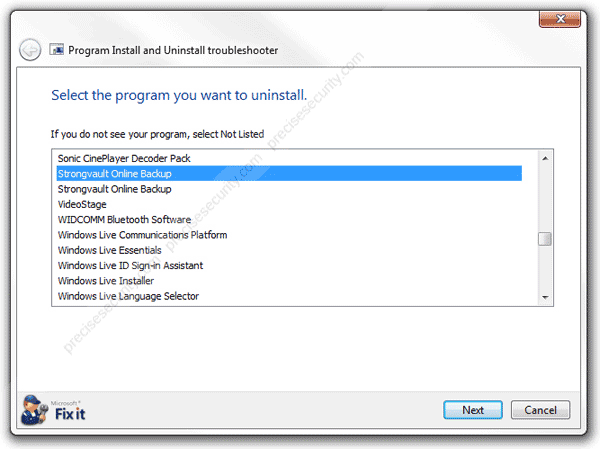 10. On the next prompt, please select Yes, try uninstall.
11. You will receive a confirmation message once the tool has removed Strongvault from the computer.
Option 2: Download and Use Uninstall kit from Strongvault
1. Download the uninstall kit from this link http://stronghold.com/app/Setup_SV.msi.
2. Save the file to a convenient location on your hard drive.
3. Once the download completes, double-click on the file to run. Please note that this is not a signed application. It may produce security warning once executed. Nevertheless, the file is harmless.
4. If Strongvault is still intact on the computer and you have not execute uninstall procedure, please select Remove.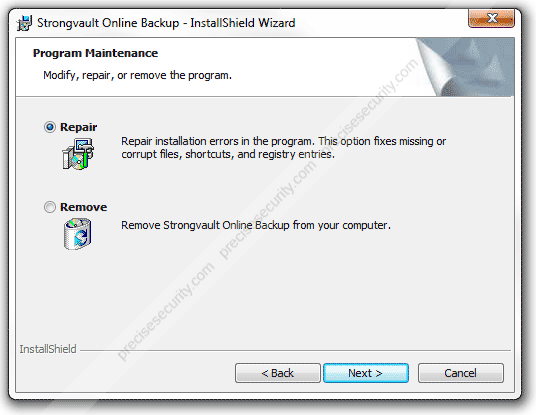 If you have uninstalled Strongvault but found that some files still remains on the computer, please choose Repair. This method allows the program to repair any installation error including corrupt files left on the computer. Next, run Setup_SV.msi again, but this time, please execute Remove.