Netadv Toolbar
Netadv is part of a Zlob Trojan that adds links on Internet Explorer toolbar. The link points to a unknown security website that promotes rogue security programs. Netadv virus will display excessive pop-up advertisements on the computer and redirects search results to unsolicited web sites. In fact, the NetADV itself will offer functionalities such as pop-up blocker, virus protection and spyware removal. But in reality, Netadv Toolbar itself is the only malicious application that must be remove from the PC. This virus will install itself without a component on add/remove program of Windows so it is difficult to remove automatically without the use of third-party anti-malware or anti-virus application. 
The fake toolbar also display warning alerts as user browse the Internet:
Warning: possible spyware or adware infection! Click here to scan your computer for spyware and adware…
If the message is executed, browser will be redirected to various fake security web sites. On these sites, abundant of rogue programs are promoted, all identifying themselves as legitimate security software that can protect your system against virus attack. Visitors can be convince to download trial version of rogue software when it detects numerous threats as a result right after it ran an online virus scan.
Screen Shot Image: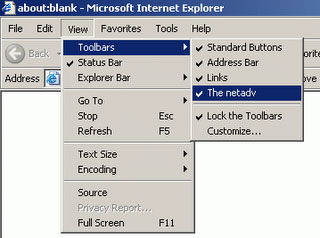 Other Alias: The Netadv Toolbar
Threat Level: Medium
Systems Affected: Windows 9x, ME, 2000, XP and Vista
Netadv Toolbar Virus Removal
Use MBAM as Removal Tool
1. Click here to download removal tool. Save it on your Desktop.
2. After downloading, double-click on the file to install the application.
3. Follow the prompts and install as "default" only
4. If it prompts to update the database after installation, please proceed.
5. Click "Finish." Program will run automatically and you will be prompt to update the program before doing a scan. Please update.
6. Scan your computer thoroughly.
7. When scanning is finished, click on the "Show Results"
8. Make sure that all detected threats are marked, click on Remove Selected.
9. Restart your Windows.
Note: Netadv Toolbar may prevent mbam-setup.exe from downloading and running. You can download and rename this program from a different computer before running it on infected system.
Alternative Removal Method for Netadv Toolbar
Option 1 : Use Windows System Restore to return Windows to previous state
If Netadv Toolbar enters the computer, there is a big chance that Windows files, registry entries and other essential components are also infected. System Restore can reinstate clean system files by restoring the configuration to an earlier date. The method also replaces compromised files with a clean version. If you have a saved restore point before Netadv Toolbar infiltrates the PC, we highly encourage you to execute this procedure if none of the above works. You may proceed with Windows System Restore, click here to see the full procedure.