GetSavin adware is a program that focuses on delivering banner ads to computer users. If you are seeing the ads from this program, it only confirms that it is installed on your computer. Additionally, it may load GetSavin Toolbar on the browser. The software may not be listed on the Add/Remove of Windows at times, but it will exists as add-on or plug-in on your browser. There may be variation how GetSavin is installed, but thorough check-up on the affected PC will always show traces of its code.
Even though GetSavin is installed on Windows system, user may not notice its presence until you surf the web visiting merchant web sites. The ads will flood your screen if you are doing online shopping. Pop-up ads from GetSavin contain relevant links to your queries. This only proves that the adware is monitoring your web browsing activity in order to deliver related content.
If you are one of the people who require the removal of this adware, then, you are in the right place. On this page, you will see a complete removal guide for GetSavin adware including toolbar. It is important that you removed the add-ons from affected browser to stop the banner ads from appearing. Built-in pop-up blocker from web browser may not stop it.
Screenshot Image: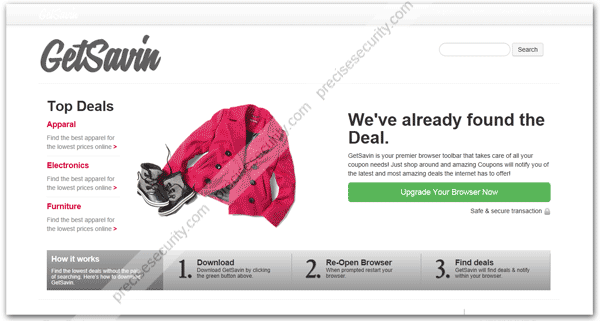 GetSavin Removal Procedure
Step 1 : Run Anti-Malware Program to Automatically Remove GetSavin
Running anti-malware scan on the affected computer can instantly remove components installed by GetSavin. However, there is no guarantee that this will check and fix existing problems on all Internet browsers.
If you did not get rid of GetSavin using this virus scan, please check the manual removal instructions below as outlined below. Restoring Windows to previous state prior to the infection may also be the solution.
1. Click on the button to start downloading our recommended anti-malware tool. Save it to an accessible location inside your hard drive or clean USB drive if you are downloading from a different PC.
2. Once the download completes, install the tool using the default configuration. You do not need to change any settings while running the installation procedure.
3. Update the program when installation completes. Typically, this is an automated process, so, Internet connection is required in order to download necessary database.
4. Run a complete scan of the affected computer and remove all identified threats.
5. To finalized the removal process, the program prompts to restart Windows.
Step 2 : Uninstall GetSavin from Windows Control Panel
You may skip these steps if the previous scan has successfully removed GetSavin from the computer. Though, if there is a need to carry out manual removal, please execute these steps and refer to guide below specifically created to remove the threat from particular browser.
1. Go to Start > Control Panel.
2. When Control Panel window appears, click on 'Uninstall a program' under Programs area.
3. Your display now shows a screen to uninstall or change a program. Look for a name'GetSavin' and click on Uninstall/Change.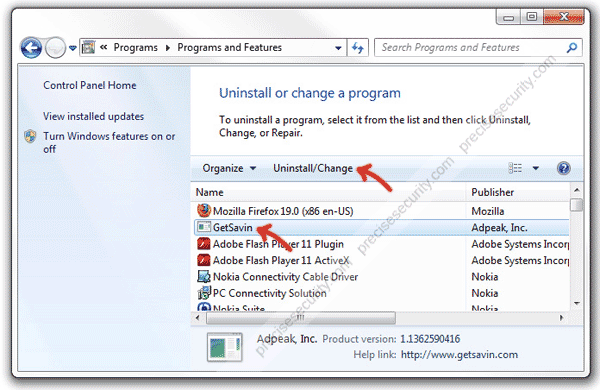 4. On the next prompt, you need to confirm the uninstall process.
5. Click OK to proceed with the removal GetSavin.
Step 3 : Remove the GetSavin Add-ons and Extensions from your browser
Internet Explorer Instructions
1. Open Internet Explorer.
2. Navigate to top menu and click on Tools. Next, select Manage add-ons from the list. A window where in you can manage Internet Explorer add-ons will open.
3. Click Toolbars and Extensions on left side of the window.
4. Then, to remove GetSavin from this list, simply highlight it and click on Disable button.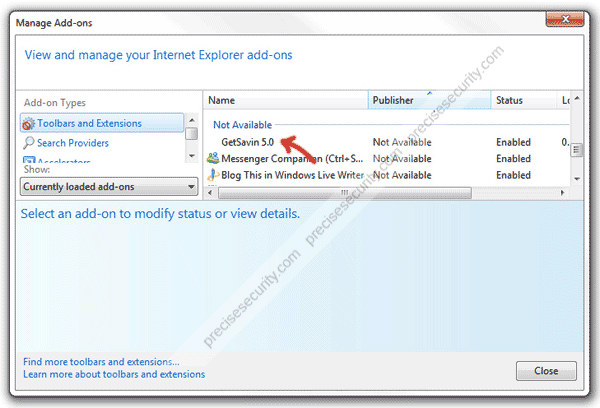 6. You may now close the current window and remain Internet Explorer browser open.
7. Navigate to Tools > Internet Options. It opens up a configuration box of IE. Make sure that you are in General tab.
8. On Home Page area, replace the entry if it currently set to getsavin.com. Type a line of your preferred web address to which your browser will open. This will be your default home page address.
9. Click OK to save the settings and restart Internet Explorer.
Google Chrome Procedure
1. Open Google Chrome.
2. Locate and click the Wrench or Three-Bars icon on top. Then, select Tools from the list. Next, click on Extensions.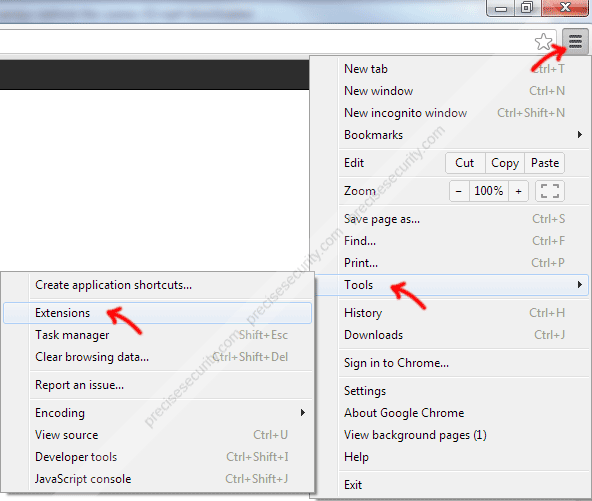 3. Once it opens a window, click on the Extensions located on left side panel.
4. Usually, Google Chrome has empty Extension, unless if you install base on your preference. Also on this area, you can find the item provided by GetSavin. Remove the unwanted entry by removing the check on 'Enabled' or simply click on the 'Trash' icon do delete GetSavin Extension.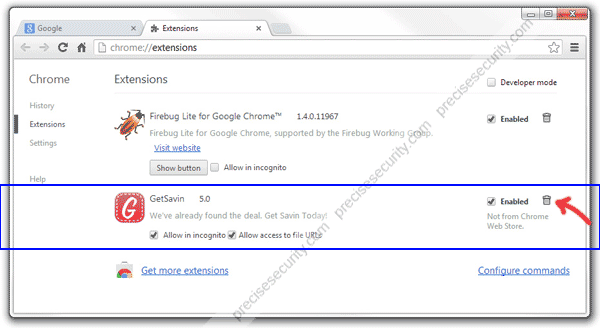 Mozilla Firefox Direction
1. Launch Mozilla Firefox.
2. Navigate to top menu and click on Tools. It will display a drop-down list; please select Add-ons to open the configuration window.
3. Click Extensions on the left panel. This will show a list of installed extensions.
4. Find the GetSavin add-on and click the Remove button. Alternatively, you can click on Disable to stop the adware from appearing in your browser.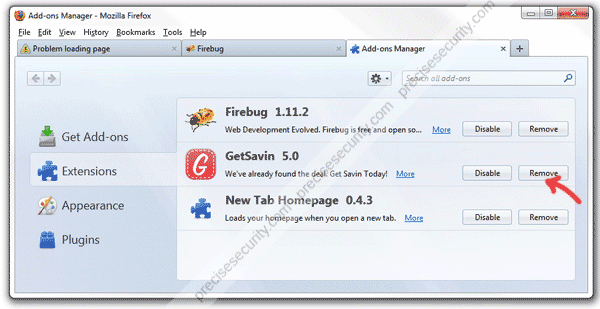 5. Click on the X of Add-ons Manager tab to close the current window. Please remain in the browser; we still need to perform the final process.
6. In the address bar, type about:config. Next, click on 'I'll be careful, I promise!' if it displays a warning "This might void your warranty!"
13. Type GetSavin in the search box. You will see all items that were modified by the adware. Right-click on the modified preference and click on Reset to restore the original setting. Repeat the process on all affected entries.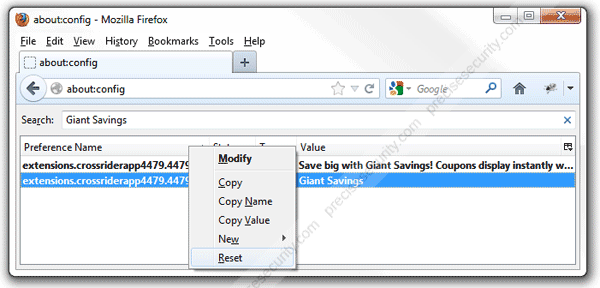 14. You may now close the window and restart Mozilla Firefox.