"Attention! Your web page request has been cancelled." is a browser hijacker that will block Internet access of the compromised computer. This web page is fake, residing locally and was created to fool Internet users. It was established to mislead computer users to obtain the licensed version of the endorsed security program. The full message of this fake alert is:
Attention! Your web page request has been cancelled.
This web site refused your connection as it was reported as a malicious request. This can be caused by Viruses, Trojans or Malware found on your computer.
In order to resend your request to the website, press Resend request (please note that this action may cause a permanent block of your computer by the requested website)
In order to activate your security software, please Fix Now (recommended)
Screen Shot Image: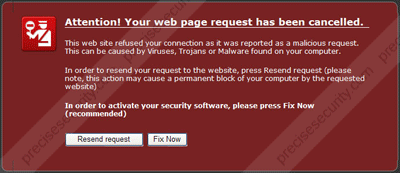 Alias: Antivirus 7
Browsers Affected: Internet Explorer, Firefox, Chrome
Recommendations:
Restore the hijacked browser and remove "Attention! Your web page request has been cancelled." redirects:
1. You must download, install and run MalwareBytes Anti-Malware or SuperAntispyware to remove infected files and reverse all modifications this malware have done on Internet browser. Though trial versions of these programs are enough to remove the threats, it is a must to have the licensed version to prevent future infections. Licensed versions have an active Auto-Protect that will monitor online activities preventing malware from entering the computer.
2. It is advise to reset Internet browser settings manually and restore your modified home page. A default security settings should be re-establish if hijacker have modified it in favor of its fraudulent activities.  Please see a separated guidelines to restore default Internet Explorer Settings or reset Firefox Settings for a detailed procedures.
Follow removal procedures from originating malware:
1. This browser hijacker is believed to be associated with a rogue program. Please see also Antivirus 7 removal procedure.
Additional Details on "Attention! Your web page request has been cancelled."
Other Symptoms:
– Browser hijackers are constantly utilizing victims Internet connection to download additional malware from a remote server. This activity will enhance the presence and users may experience additional warnings aside from "Attention! Your web page request has been cancelled."
– With browser hijacker still on the system, Internet connection activities are being monitored including web site visited, browsing history and interest of the user. In relation to this, excessive pop-ups and advertisements will be displayed on computer based on the gathered data.