"My Computer Online Scan" is a browser hijacker that redirects Internet browser to a malicious online virus scanner web site, which detects false spyware and adware. Some of the threat it incorrectly identifies are Admess.Trojan, Zserv.Transponder.Trojan and Wstart.TrojanDownloader among others.
Another interesting observation is that uploading of "My Computer Online Scan" fake security web site aims to spread a copy of rogue programs including Total Security, System Security and Security Tool. The web site will promote rogue antivirus program by means of deceptive pretences like issuing fake online virus scan results. After the scan, "My Computer Online Scan" will prompt visitor to download a recommended program in order to remove threats.
A force redirection of Internet browser to "My Computer Online Scan" web site signifies a Trojan or similar threats have infected the PC. Downloading files from this dangerous web site will further harm the computer. Keep away from visiting or downloading files from unknown sites. Prevention is possible if an antivirus program with real-time protection is present.
Remove "My Computer Online Scan" using only trusted security programs that are readily available from various vendors. Alternatively, follow the removal guide on this page to remove the browser hijacker.
Screen Shot Image: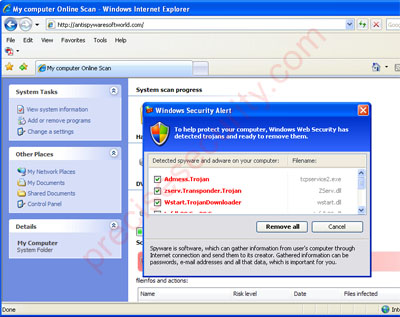 Technical Details and Additional Information:
Damage Level: Medium
Systems Affected: Windows 9x, 2000, XP, Vista, Windows 7