PrivacyControl
PrivacyControl is a program that cannot provide system protection and virus removal. Although the program is advertised as legitimate security product, the way it performs once installed is very unlikely. PrivacyControl can be categorically included in the lists of rogue application the way it handles scan and detect method once run. It employs deceiving tactics by providing falsified information on scan results. Furthermore, it generates unreliable pop-up messages stating several threats identified on the system.
In most cases, PrivacyControl will enter the computer by Trojan infection. Unprotected system impossibly notice the arrival of this rogue product since the Trojan is hiding the installation process. Visiting contracted web sites is also another source of PrivacyControl virus infection. Surfing the Internet without a protection coming from anti-virus or firewall software will induce potentially unwanted application to come into the system.
Screenshot Image: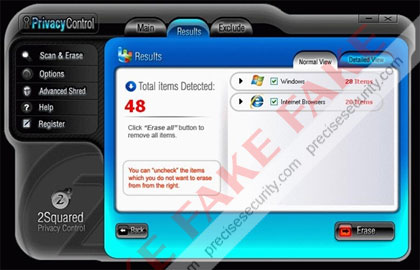 Damage Level: Medium
Systems Affected: Windows 9x, 2000, XP
PrivacyControl Removal Procedures
PrivacyControl REMOVAL TOOL:
Efficient and complete removal of PrivacyControl can be provided by Malwarebytes Anti-Malware. Download the program from this location. If downloading is blocked by a virus, use a clean computer and save it to a Disc or USB drive and execute the removal on infected machine.
MANUAL REMOVAL:
1. Unload any running PrivacyControl process by pressing Ctrl+Alt+Del on your keyboard. This will open Task Manager. Look for the following process and click "End Process":
PrivacyControl.exe
2. If antivirus program Is installed, connect to Internet and update it to have the latest database and pattern files.
3. Thoroughly scan the computer and clean/delete all infected files. See lists of PrivacyControl associated files below.
4. Edit Windows registry and delete malicious entries as stated below. [how to edit registry]
5. Close registry editor, changes will be save automatically.
6. Remove PrivacyControl start-up entry by going to Start > Run, type msconfig on the "Open" dialog box. System Configuration Utility will open. Go to Startup tab and uncheck the following Startup item(s):
PrivacyControl.exe
7. Click on Apply and reboot the computer for changes to take effect.
Additional Useful Tools
Using Portable SuperAntiSpyware:
To thoroughly remove the virus, it is best to do a separate scan of another security program so that other infected files not detected by anti-virus application can be get rid as well. Click here to download and run SAS Portable Scanner.
Technical Details and Additional Information:
Malicious Files Added by PrivacyControl
C:\Documents and Settings\All Users\Desktop\PrivacyControl.lnk
C:\Documents and Settings\All Users\Start Menu\Programs\PrivacyControl\PrivacyControl.lnk
C:\Documents and Settings\All Users\Start Menu\Programs\PrivacyControl\PrivacyControl on the Web.lnk
PrivacyControl Registry Entries:
HKEY_LOCAL_MACHINE\SOFTWARE\PrivacyControl
HKEY_CURRENT_USER\SOFTWARE\PrivacyControl
HKEY_CURRENT_USER\SOFTWARE\Microsoft\Windows\CurrentVersion\Run\privacycontrol
Alternative Removal Method for PrivacyControl
Option 1 : Use Windows System Restore to return Windows to previous state
If PrivacyControl enters the computer, there is a big chance that Windows files, registry entries and other essential components are also infected. System Restore can reinstate clean system files by restoring the configuration to an earlier date. The method also replaces compromised files with a clean version. If you have a saved restore point before PrivacyControl infiltrates the PC, we highly encourage you to execute this procedure if none of the above works. You may proceed with Windows System Restore, click here to see the full procedure.