PUP.Optional.OptimizerPro is a detection used by the program Malwarebytes Anti-malware to identify a computer threat linked to PC Optimizer Pro product. It uses the code "PUP" as in potentially unwanted program due to the nature of the software. It is not a virus, though it may possess similar traits. It gains access on the computer without your knowledge through other programs. "Optional" means that this threat may give user an option whether to install the program or not.
PUP.Optional.OptimizerPro files are normally bundled with freeware. By installing the said program, you may also load the PC Optimizer Pro. Though, as mentioned, you may still opt-out during the install process. Removing the check mark from the prompt will bypass the installation of PUP.Optional.OptimizerPro or similar components.
In some instances, users are made blinded by PUP.Optional.OptimizerPro. It may be presented as a different program. It will disguise as tools, utilities, games, or software update. When installed on the computer, all you will get is PUP.Optional.OptimizerPro.
A scan by MBAM program doesn't always remove the threat. In fact, computer users brought up an issue on the difficulty of removing PUP.Optional.OptimizerPro. MBAM alone is not enough to get rid of this malicious program. This is why we have used a combination of tools and scanners on the removal guide as presented on this page.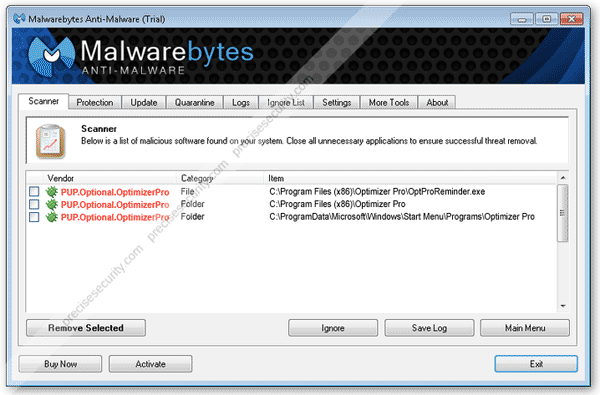 How to Remove PUP.Optional.OptimizerPro
Systematic procedures to get rid of the threat are presented on this section. Make sure to scan the computer with suggested tools and scanners.
Step 1 : Download Microsoft Safety Scanner and Run a Scan
NOTE: We suggest that you PRINT or BOOKMARK this guide. There are steps that we may have to restart the computer in order to successfully remove the threat.
If you have previous version of Microsoft Safety Scanner that is more than 10 days old, please disregard it. Download a new copy from the official web site. Every 10 days, Microsoft will release the latest edition of this tool with updated anti-virus definitions to ensure that it will detect even most recent malware threats.
1. Download Microsoft Safety Scanner by clicking the button below and save it on your desktop. This is a free tool from Microsoft that offers on-demand scanning. It helps remove computer infection such as malware, virus, and Trojan.
2. Restart Windows in Safe Mode.

Boot in Safe Mode on Windows XP, Windows Vista, and Windows 7 system
a) Before Windows begins to load, press F8 on your keyboard.
b) It will display the Advanced Boot Options menu. Select Safe Mode.
Start computer in Safe Mode using Windows 8 and Windows 10
a) Close any running programs on your computer.
b) Get ready to Start Windows. On your keyboard, Press and Hold Shift key and then, click on Restart button.
c) It will prompt you with options, please click on Troubleshoot icon.
d) Under Troubleshoot window, select Advanced Options.
e) On next window, click on Startup Settings icon.
f) Lastly, click on Restart button on subsequent window.
g) When Windows restarts, present startup options with numbers 1 - 9. Select "Enable Safe Mode with Networking" or number 5.
h) Windows will now boot on Safe Mode with Networking. Proceed with virus scan as the next step.
3. Once Windows starts in Safe Mode, locate the file of Microsoft Safety Scanner (msert.exe) that you have downloaded earlier. Double-click to run the file.
4. When it shows End user license agreement, please accept and click Next to continue.

5. On Scan Type window, please select Full scan. The tool will scan the entire system. This is ideal to detect and remove all threats that are present on the computer.
6. Click Next to begin the scan. This process will take a while to finish. Please be patient and let MSS complete the scan procedure.
7. Once the scan operation ends, it will provide a report for identified threats. Please remove all the threats.
8. Reboot the computer and run another scan after Windows boots normally to make sure that PUP.Optional.OptimizerPro is gone. You may now restart Windows normally.
Step 2 : Double-check for Remnants of PUP.Optional.OptimizerPro using Malwarebytes Anti-Malware
This guide requires a tool called Malwarebytes' Anti-Malware. It is a free tool designed to eradicate various computer infections including PUP.Optional.OptimizerPro. MBAM scanner and malware removal tool is distributed for free.
1. In order to completely remove PUP.Optional.OptimizerPro, it is best to download and run the recommended tool. Please click the button below to begin download.
2. After downloading, double-click on the file to install the application. If you are using Windows Vista or higher version, right-click on the file and select 'Run as administrator' from the list.
3. When User Account Control prompts, please click Yes to proceed with the installation.
4. Follow the prompts and install as 'default' only. There are no changes needed during the installation process.
5. Before the installation procedure ends, MalwareBytes Anti-Malware will prompt if you want to launch the application. Please leave the check mark on Launch Malwarebytes Anti-Malware.
6. Lastly, click the Finish button.
7. Malwarebytes Anti-Malware will launch for the first time. It is necessary to proceed with database update.
8. After downloading updates, the tool will start with the main window.
9. Choose Threat Scan on scanner's console to ensure that it thoroughly check the PC for any presence of PUP.Optional.OptimizerPro and other forms of threats. Click the Start Scan button to begin.
10. Once the scan has completed, Malwarebytes Anti-Malware will issue a list of identified threats. Mark all threats and click on Remove Selected.
11. If it prompts to restart the computer, please reboot Windows.
Alternative Removal Procedure for PUP.Optional.OptimizerPro
Use Windows System Restore to return Windows to previous state
During an infection, PUP.Optional.OptimizerPro drops various files and registry entries. The threat intentionally hides system files by setting options in the registry. With these rigid changes, the best solution is to return Windows to previous working state is through System Restore.
To verify if System Restore is active on your computer, please follow the instructions below to access this feature.
How to Access System Restore on Windows XP, Windows Vista, and Windows 7
a) Go to Start Menu, then under 'Run' or 'Search Program and Files' field, type rstrui.
b) Then, press Enter on the keyboard to open System Restore Settings.
How to Open System Restore on Windows 8
a) Hover your mouse cursor to the lower left corner of the screen and wait for the Start icon to appear.
b) Right-click on the icon and select Run from the list. This will open a Run dialog box.
c) Type rstrui on the 'Open' field and click on OK to initiate the command.
If previous restore point is saved, you may proceed with Windows System Restore. Click here to see the full procedure.
Ways to Prevent PUP.Optional.OptimizerPro Infection
Take the following steps to protect the computer from threats. Suggested tools and security setup within installed software helps prevent the same attack on your PC.
Install an effective anti-malware program
Your first line of defense would be an effective security program that provides real-time protection. We have a list of anti-malware program that are tried and tested. It does not only scan files but also monitors your Internet traffic and is extremely active on blocking malicious communication. Click on the button below to download our recommended anti-malware program.
Always update your installed software
Software vendors constantly releases updates for programs whenever a flaw is discovered. Getting the updates makes the computer more secured and help prevents Trojan, virus, malware, and PUP.Optional.OptimizerPro similar attacks. If in case your program is not set for instant update, it usually offered from vendor's web site, which you can download anytime.
Maximize the security potential of your Internet browser
Each browser has their own feature where in you can adjust the security settings that fit your browsing habit. We highly encourage you to maximize the setup to tighten the security of your browser.
Apply full caution when using the Internet
Internet is full of fraud, malware, and many forms of computer threats including PUP.Optional.OptimizerPro. Implement full caution with links that you may receive from emails, social networking sites, and instant messaging programs. It might lead you to malicious sites that can cause harm to your computer. Avoid strange web sites that offers free services and software downloads.