AntiMalware is a virus that in disguise. It is endorse as a program that will help protect the computer from Trojans and viruses. Definitely, it is not the real intention of this pretentious malware. AntiMalware rogue security application continuously displays different virus warning on the computer to get users attention. Then it will redirect them to own web site and pushes to purchase the registered version of AntiMalware fake program. Aside from that, AntiMalware virus will pretend as a firewall that will effectively reject network security attack.
By providing these kinds of activities once inside the system, there is an assurance that this unwanted application can win the trust of computer users. Moreover, there is a big chance that AntiMalware virus will attain its goal – that is to have users pay for the licensed version.
What's more devastating about this fake program is its ability to remove certain legitimate security programs. AntiMalware virus also tries to connect on a remote website and further infect the computer by downloading additional threats. This move also strengthens its presence and imparts more damages It will disable Task Manager, Control Panel and Registry Editor which will make it difficult for ordinary users to remove AntiMalware virus.
Damage Level: Low
Systems Affected: Windows
Screenshot Image: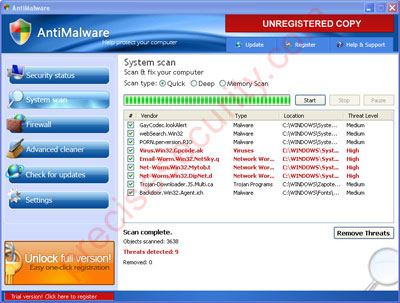 Additional Information:
"AntiMalware Network Security Alert" pop-up messages will constantly appear on computer who got infected with an AntiMalware virus. This will pretend as a firewall alert warning with the following message:
AntiMalware Network Security Alert
Network attack rejected!
Your computer is being attacked from remote host. Attack has been classified as Remote code execution attempt.
Attack from 28.40.52.64:24496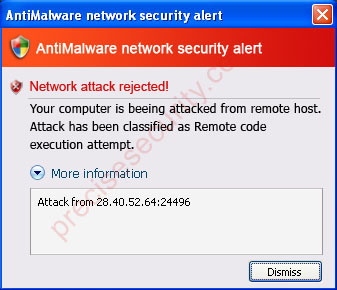 Other than network security alert, this malware will pop-up fake syste tray messages that shows warnings like these:
Warning!
PLEASE, OPTIMIZE YOUR PC. IT RUNS ONLY 10%

Warning!
ANTIVIRUS IS RUN IN DEMO MODE. ACTIVATE YOUR ANTIVIRUS OR OTHERWISE ALL THE DATA WILL BE LOST OR DAMAGED! 

Analysis
It monitors the system for presence of the following security programs and remove if it exists.
Agnitum, Avast!, AVG, Avira AntiVir, BitDefender, F-Secure, Kaspersky, Malwarebytes' Anti-Malware, NOD32, Sophos