Antivir Solution Pro will spread by utilizing a Trojan that is capable of downloading rogue security program on computers. This Trojan will execute the said process by making use of software and security weaknesses found on old software. Antivir Solution Pro will also use a technique called drive-by-download. User's who visit a web site running malicious script may drop this unwanted program on computer. Once running, it will modify Internet browser to block Internet access.
It prevents a visit to legitimate antivirus web sites. System that is heavily infected with this threat can encounter malfunctioning Windows tools. Task manager, folder options, registry editor, and other important tools may stop running. With these settings, victim will have a complicated way of removing Antivir Solution Pro in a manual manner. There is no doubt that many infected systems will experience severe annoyances and errors. This fake program reduces system performance by running in the background and using memory resources. Then, it attempts to communicate with a remote server and download additional threat intended to enhance of this malicious program.
This malware is so deadly. We advise you to remove Antivir Solution Pro virus immediately to prevent more harm on the computer. Scan system your with real security application. Never obtain the license version Antivir Solution Pro. It was not designed to protect a computer neither remove any viruses.
Update: October 29, 2010
There is a new variant of this program. It is called Antivirus Suite 2010. The method of how it spread remains the same. It is either via fake online virus scanner, Trojan, or fake multimedia web sites.
Antivir Solution Pro Image: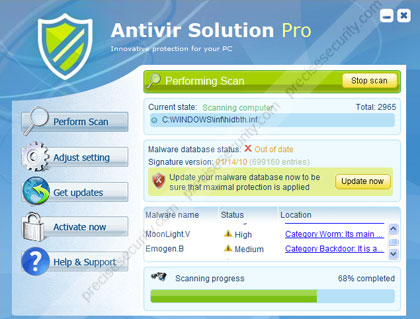 Damage Level: Medium
Systems Affected: Windows 9x, 2000, XP, Vista, Windows 7
Technical Details and Additional Information:
Clicking on "Update Now", "Adjust Setting", and "Get Updates" will display an activation window. It states that removal of any threats are disabled in current mode and user must purchase a license to be able to remove viruses and protect a computer.
Activate Now
This is demo version of Antivir Solution Pro. Please note that removal feature is disabled in demo mode. To be able to remove viruses found and protect your PC, you should purchase a license.
Activate Antivir Solution