AnVi or Antivirus is another malicious computer security application that will complicate the operation of infected system. It is because AnVi – Antivirus modifies system settings and configuration of the computer to support its malicious actions. Excessive display of pop-up alerts and advertisements will attempt to persuade users to into obtaining the full version of this rogue software. This malware further deceive its victims by running a virus scan that provides falsified results displaying dozens of alerts including Trojans, viruses and spyware. Finally, it prompts to remove these threats. Following the instruction will point user to a payment processing website to obtain credit card info and finalized the payment. The site collects data from victims and uses it for other fraudulent online activity.
Remove Antivirus alias AnVi immediately with an effective combination of antivirus and anti-malware program. Anti-virus will remove the Trojan that dropped this rogue on computer while anti-malware will erase process, registry entries and fix modified system files.
Damage Level: Medium
Systems Affected: Windows 9x, 2000, XP, Vista
Screenshot Image of AnVi-Antivirus: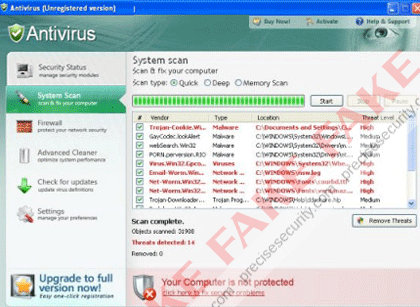 Additional Information
Anvi will display fake alerts and warning messages to deceive users regarding presence of threats.
Warning! Keylogger detected!
Keylogger activity detected on your PC!
PDM.Keylogger activity has been detected. Process is trying to redirect keyboard input. Your passwords and other private information are at risk. Please click the button below to block and remove this threat now.

Warning! Adware detected!
Adware Module detected on your PC!
Zlob.Porn.Ad adware has been detected. This adware module advertises websites with explicit content. Be advised of such content being possibly illegal. Please click the button below to locate and remove this threat now.
It will advise users to remove installed antivirus program.
Uncertified (installed antivirus) antivirus software detected on your computer. You need to remove (installed antivirus) software for correct operation of the Antivirus.
Attention: If you don`t remove (installed antivirus) software, the performance of your computer will dramatically degrade. Press "OK" to remove the (installed antivirus).
How to Remove AnVi - Antivirus
Systematic procedures to get rid of the threat are presented on this section. Make sure to scan the computer with suggested tools and scanners.
NOTE: It is recommended to PRINT or BOOKMARK this instruction because we need to restart Windows during the virus removal process.
Step 1 : Remove AnVi - Antivirus with this recommended tool
This guide requires a tool called Malwarebytes' Anti-Malware. It is a free tool designed to eradicate various computer infections including AnVi - Antivirus. MBAM scanner and malware removal tool is distributed for free.
1. In order to completely remove AnVi - Antivirus, it is best to download and run the recommended tool. Please click the button below to begin download.
2. After downloading, double-click on the file to install the application. If you are using Windows Vista or higher version, right-click on the file and select 'Run as administrator' from the list.
3. When User Account Control prompts, please click Yes to proceed with the installation.
4. Follow the prompts and install as 'default' only. There are no changes needed during the installation process.
5. Before the installation procedure ends, MalwareBytes Anti-Malware will prompt if you want to launch the application. Please leave the check mark on Launch Malwarebytes Anti-Malware.
6. Lastly, click the Finish button.
7. Malwarebytes Anti-Malware will launch for the first time. It is necessary to proceed with database update.
8. Remove all media such as Memory Card, CD, DVD, and USB devices. Then, restart the computer.
Boot in Safe Mode on Windows XP, Windows Vista, and Windows 7 system
a) Before Windows begins to load, press F8 on your keyboard.
b) It will display the Advanced Boot Options menu. Select Safe Mode.
Start computer in Safe Mode using Windows 8 and Windows 10
a) Close any running programs on your computer.
b) Get ready to Start Windows. On your keyboard, Press and Hold Shift key and then, click on Restart button.
c) It will prompt you with options, please click on Troubleshoot icon.
d) Under Troubleshoot window, select Advanced Options.
e) On next window, click on Startup Settings icon.
f) Lastly, click on Restart button on subsequent window.
g) When Windows restarts, present startup options with numbers 1 - 9. Select "Enable Safe Mode with Networking" or number 5.
h) Windows will now boot on Safe Mode with Networking. Proceed with virus scan as the next step.
9. Once Windows is running on Safe Mode, find the icon of MalwareBytes Anti-Malware. Double-click to launch the program.
10. Choose Threat Scan on scanner's console to ensure that it thoroughly check the PC for any presence of AnVi - Antivirus and other forms of threats. Click the Start Scan button to begin.
11. Once the scan has completed, Malwarebytes Anti-Malware will issue a list of identified threats. Mark all threats and click on Remove Selected.
12. If it prompts to restart the computer, please reboot Windows normally.
Step 2 : Double-check if AnVi - Antivirus Still Exists
1. Click on the button below to download Norton Power Eraser from official web site. Save it to your desktop or any location of your choice.
2. After downloading, navigate its location and double-click on the NPE.exe file to launch the program.
3. Norton Power Eraser will run. If it prompts for End User License Agreement, please click on Accept to proceed.
4. On NPE main window, click on Advanced Options. We will attempt to remove "AnVi - Antivirus" by thoroughly scanning your current operating system.
5. On next window, select System Scan and click on Scan now to perform standard scan on your computer.
6. NPE will proceed with the scan. It will search for Trojans, viruses, and malware like AnVi - Antivirus. This may take some time, depending on the number of files currently stored on the computer.
Step 3 : Run Additional Scanner to Ensure that AnVi - Antivirus is Totally Deleted
Online Virus Scanner:
Another way to remove a virus without the need to install additional anti-virus software is to perform a thorough scan with free Online Virus Scanner. Browse this page to see a list of free services from specific anti-virus and security company.
Alternative Removal Procedures for AnVi - Antivirus
Use Windows System Restore to return Windows to previous state
During an infection, AnVi - Antivirus drops various files and registry entries. The threat intentionally hides system files by setting options in the registry. With these rigid changes, the best solution is to return Windows to previous working state is through System Restore.
To verify if System Restore is active on your computer, please follow the instructions below to access this feature.
Access System Restore on Windows XP, Windows Vista, and Windows 7
a) Go to Start Menu, then under 'Run' or 'Search Program and Files field, type rstrui.
b) Then, press Enter on the keyboard to open System Restore Settings.
c) Windows will display list of saved restore points. Select the most recent one to restore Windows to previous working and clean state.
d) It may take some time to fully restore back-up files. Restart Windows when done.
Open System Restore on Windows 8 and Windows 10
a) For Windows 8 user, go to Start Search, while on Windows 10, use the Start Menu Search and type rstrui.
b) Click on the located program to open System Restore window.
c) Windows will display list of saved restore points if it is active. Select the most recent one to restore Windows to previous working and clean state.
d) It may take a while to fully restore back-up files. Restart Windows when done.
If previous restore point is saved, you may proceed with Windows System Restore.
Optional : AnVi - Antivirus manual uninstall guide
IMPORTANT! Manual removal of AnVi - Antivirus requires technical skills. Deleting system files and registry entries by mistake may result to total disability of Windows system. We advise you to perform a backup of registry before proceeding with this guide.
1. Kill any running process that belongs to AnVi - Antivirus.
- Press Ctrl+Alt+Del on your keyboard.
- When Windows Task Manager appears, look for AnVi - Antivirus files (refer to Technical Reference) and click End Process.
2. Delete all registry entries that belong to this malware.
- Press [Windows Key]+R on your keyboard.
- In the 'Open' dialog box, type regedit and press Enter. This will open registry editor.
- Find and delete registry entries as mentioned in Technical Reference section.
- Close registry editor. Changes made will be saved automatically.
3. Scan the computer with antivirus program.
- Connect to Internet and open your antivirus software. Please update to obtain the latest database and necessary files.
- Restart the computer in Safe Mode.
- Just before Windows logo begins to load press F8 on your keyboard.
- On Windows Advanced Boot Options, select Safe Mode and press Enter.
- Thoroughly scan the computer with your updated antivirus software.
4. Delete all files dropped by AnVi - Antivirus.
- While still in Safe Mode, search and delete malicious files. Please refer to 'Technical Reference'. Make sure that you execute 'End Task' first before deleting the file. Otherwise, the system will not let you perform this action.
Associated Files and Folders:
Ways to Prevent AnVi - Antivirus Infection
Take the following steps to protect the computer from threats. Suggested tools and security setup within installed software helps prevent the same attack on your PC.
Install an effective anti-malware program
Your first line of defense would be an effective security program that provides real-time protection. We have a list of anti-malware program that are tried and tested. It does not only scan files but also monitors your Internet traffic and is extremely active on blocking malicious communication. Click on the button below to download our recommended anti-malware program.
Always update your installed software
Software vendors constantly releases updates for programs whenever a flaw is discovered. Getting the updates makes the computer more secured and help prevents Trojan, virus, malware, and AnVi - Antivirus similar attacks. If in case your program is not set for instant update, it usually offered from vendor's web site, which you can download anytime.
Maximize the security potential of your Internet browser
Each browser has their own feature where in you can adjust the security settings that fit your browsing habit. We highly encourage you to maximize the setup to tighten the security of your browser.
Apply full caution when using the Internet
Internet is full of fraud, malware, and many forms of computer threats including AnVi - Antivirus. Implement full caution with links that you may receive from emails, social networking sites, and instant messaging programs. It might lead you to malicious sites that can cause harm to your computer. Avoid strange web sites that offers free services and software downloads.