Antivirus Suite is a harmful computer security application that will perform fraudulent activities on system where it resides. Antivirus Suite is a virus that propagates just like its previous version called Antivirus Soft. Commonly, fake security websites are promoting it as legitimate program that carries the slogan "Innovative protection for your PC." Another method  used to spread this computer virus is via another Trojan that modifies Internet browser settings and redirects its search page to a fake online antivirus website. Once loaded into the system, it modifies registry values to create own entry that will ensure its start-up process during Windows boot-up. Alert  messages and task bar warnings will be displayed on infected computer trying to deceive people into purchasing licensed version by forging its security status – telling users that computer is severely infected. Antivirus Suite virus scan executes automatically and displays false result to scare computer users even more.
To get rid of Antivirus Suite and all of its associated files and components, security experts advise a use of legitimate anti-malware program. A most recent of updated version will have an advantage to detect and remove Antivirus Suite. Furthermore, disconnecting the computer from Internet while processing the scan will prevent additional harm on the computer. Slightly infected computer can use Windows System Restore utility to return the system to its clean and working state.
Antivirus Suite Screen Shot: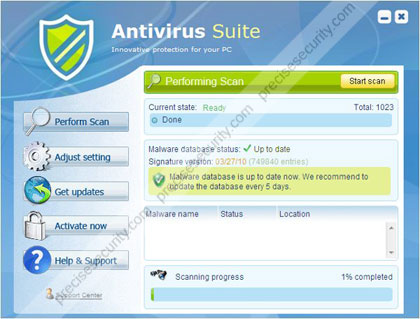 Technical Details and Additional Information:
Damage Level: Medium
Systems Affected: Windows 9x, 2000, XP, Vista, Windows 7
Characteristics (Analysis)
Malware Behavior
This virus will display a fake threat called Downloader.Win32.Delf.cgx. This threat does not really exist on the computer. Downloader.Win32.Delf.cgx detection is part of a scare tactics to oblige computer users into purchasing the fake antivirus application. The message reads:
Threat Information:
Threat: Downloader.Win32.Delf.cgx
Risk Level: High
Description: Category Trojan: This Trojan downloads other files via the Internet and launches them for execution on the victim machine without user's knowledge or consent. It is a Windows PE EXE file. It is 48128 bytes in size. It is packed using PECompact. The unpack file is approximately 131KB in size.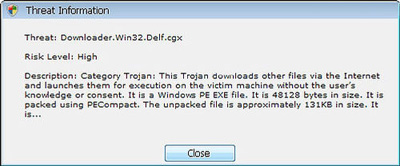 Antivirus software alert
INFILTRATION ALERT
Virus Attack
Your computer is being attacked by an Internet virus. it could be a password-stealing attack, a Trojan – dropper or similar.
Details
Attack from: 244.152.34.150, port 33516
Attacked port: 38828
Threat: Win32/Nuqel.E
Do you want to block this attack?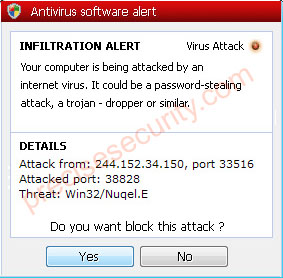 Any prompts and links executed by victim will open-up  an activation window of the rogue program as shown in the image below.