AV Checker virus will just pop-up on your screen as a web page that mimics the graphical user interface of Windows Explorer but with an additional function of a Hard Drive Antivirus Scanner. It will perform a virus scan on the computer and numerous files will be shown as infected. Attempting to clean the computer will prompt to obtain the registered version of AV Checker. Just like other rogue applications, it was designed to stay resident on the computer preventing anti-virus detection by disabling any security applications found. This can be completed by an associated Trojan that will act as a support to AV Checker. Registry modification, Internet blocking and browser redirection are just some of the payload of this Trojan. After finalizing its function to install the rogue program, a connection to remote hosts will be established and download more malicious files to strengthen their presence on the contracted computer.
With regards on how to remove AV Checker and its virus components. Never obtain a licensed version of it as prompted. After thorough evaluation on it, including all files and folders, it is clear enough to declare that it has no capacity to remove virus and protect a computer from hackers attack and other forms of infection. Only way to get if off from a computer is by utilizing an effective and legitimate anti-malware scanner. Follow the procedure provided on this page and we will assure you the AV Checker removal will be achieved instantly.
Screen Shot Image: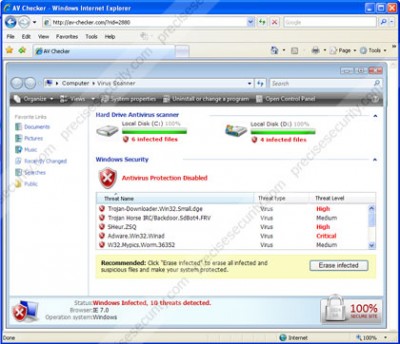 Alias: av-checker.com
Damage Level: Medium
Systems Affected: Windows 9x, 2000, XP, Vista, Windows 7
AV Checker Removal Tool:
In order to completely remove the threat, click here to download and run Malwarebytes Anti-Malware. Sometimes, Trojans will block the downloading and installation of MBAM. If this happens, download it from a clean computer and rename the executable file before executing on the infected machine.
Online Virus Scanner:
Another way to remove a virus without the need to install additional anti-virus application is to perform a thorough scan with free Online Virus Scanner that can be found here or on websites of legitimate anti-virus and security provider.
Technical Details and Additional Information:
Computers will be redirected to a website av-checker . com where another file is waiting to be downloaded. Windows Internet Explorer warning regarding risk of system slowdown will be issued asking users to optimize the computer.