AV Secure 2012 is just another clone version of AV Security 2012. They both came from a family of rogue security software that repeatedly clones and spreads similar harmful variants. AV Secure 2012 and AV Security 2012 are included in the lists of fake security products that will trick user in order to convince them into acquiring the full version of the software.
Just as any other fake anti-virus programs, AV Secure 2012 is installed on target computer if user pays a visit to malicious web site, or legitimate web pages that are contracted with Trojan Downloader. It takes advantage of Internet browser's vulnerability to dig up an access inside the computer. Then, Trojan will install AV Secure 2012 and carry out changes on system settings so as the registry to allow automatic execution on Windows start-up.
Once started, AV Secure 2012 will commence a simulation of virus scan, which makes it look like that examination is taking place. The truth is, the whole process is part of a scheme to trap user into thinking that computer is infected with viruses. All of AV Secure 2012's identified threats do not really exist. At some point where in victims wanted to clean the PC, the rogue software promotes itself as the sole solution.
In removing AV Secure 2012, victims need to achieve two things. First, delete the main program using an effective and genuine anti-malware product. Next, Remove ZeroAccess rootkit Trojan that comes with the malware using a separate tool.
Screen Shot Image:
These two images show how comparable AV Secure 2012 and AV Security 2012 are. In fact, there is only a slight variation on the title, and everything else is a complete clone.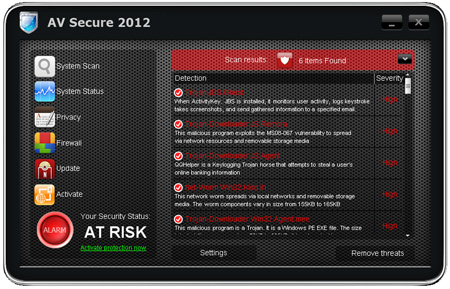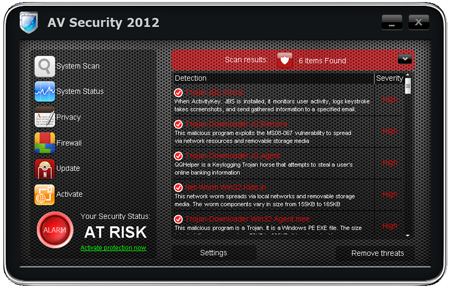 Technical Details and Additional Information:
Damage Level: Medium
Systems Affected: Windows 9x, 2000, XP, Vista, Windows 7
Malware Behavior
When AV Secure 2012 virus is loaded on the computer, it will display a number of fake alerts and security messages. Some samples are the following warnings:
Serious security vulnerabilities were detected on this computer. Your privacy and personal data may be unsafe. Do you want to protect your PC?

Warning!
Unwanted software (Malware) or tracking cookies have been found during last scan. It is highly recommended to remove it from your computer.
Keylogger Zeus was detected and put in quarantine.
Keylogger Zeus is a very dangerous software used by criminals to steal personal data such as credit card information, access to banking accounts, passwords to social networks and e-mails.