Best Malware Protection is a harmful computer software that has a sole purpose of stealing money from its victim. Initially, fake online virus scanner is put-up to introduce Best Malware Protection as needed security tool that will protect the system from known virus attack. This site will automatically run a virus scan when visited and detect threats even if none exists on the system. Furthermore, it will advise users to download and install a trial version of Best Malware Protection to be able to resolve virus problems. When this unwanted product is loaded, it will again run a virus scan but then again, it will notify users with false security data.
Originally, Best Malware Protection can invade the computer without giving user an option for its own removal. It will stick to the computer and disturb its operation to be able to convince users that system is infected. In this method, selling the paid version of Best Malware Protection comes so easy for malware authors. Victims' only payment option is to pay by utilizing online account by means of online payment processing web page. This site will ask for credit card account to settle the transaction for the payment of the registration key.
Waste no more time. Remove Best Malware Protection at once. Follow the guide below to delete the malware from an affected unit. A tool is included in the procedure. Free version of this tool can remove the malware. However, if you want total protection, we advise that you get the full version of the recommended malware remover.
Screen Shot Image: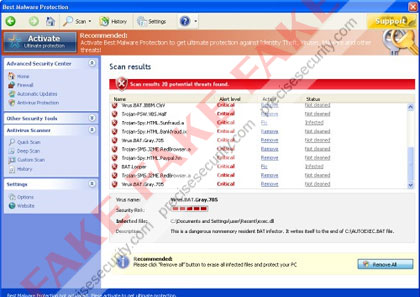 Technical Details and Additional Information:
Damage Level: Medium
Systems Affected: Windows 9x, 2000, XP, Vista, Windows 7