Best Malware Protection is a harmful computer software that has a sole purpose of stealing money from its victim. Initially, fake online virus scanner is put-up to introduce Best Malware Protection as needed security tool that will protect the system from known virus attack. This site will automatically run a virus scan when visited and detect threats even if none exists on the system. Furthermore, it will advise users to download and install a trial version of Best Malware Protection to be able to resolve virus problems. When this unwanted product is loaded, it will again run a virus scan but then again, it will notify users with false security data.
Originally, Best Malware Protection can invade the computer without giving user an option for its own removal. It will stick to the computer and disturb its operation to be able to convince users that system is infected. In this method, selling the paid version of Best Malware Protection comes so easy for malware authors. Victims' only payment option is to pay by utilizing online account by means of online payment processing web page. This site will ask for credit card account to settle the transaction for the payment of the registration key.
Waste no more time. Remove Best Malware Protection at once. Follow the guide below to delete the malware from an affected unit. A tool is included in the procedure. Free version of this tool can remove the malware. However, if you want total protection, we advise that you get the full version of the recommended malware remover.
Screen Shot Image: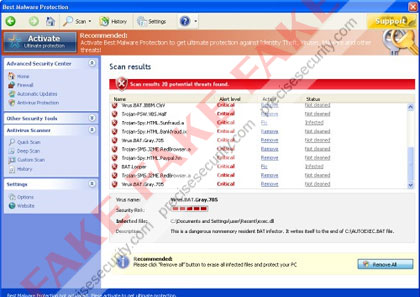 Technical Details and Additional Information:
Damage Level: Medium
Systems Affected: Windows 9x, 2000, XP, Vista, Windows 7
How to Remove Best Malware Protection
Manual Removal Procedure
1. Press Ctrl+Alt+Del on keyboard to stop the process associated to "Best Malware Protection". When Windows Task Manager opens, go to Processes tab. Find and end this process.
(random characters).exe
2. You need to update your installed antivirus software. Please connect to the Internet and download the most recent database. This is a one-click process from your AV program's console.
3. Thoroughly scan the computer and remove any threats found by your antivirus program. If delete option is not available, your best next choice is to quarantine the infected file. There is also a need to manually locate and delete malicious files. Please see the file section for items that are relevant to Best Malware Protection.
4. Next, you need to remove registry entries created by Best Malware Protection. Please refer to registry section to view entries related to the rogue program.
- (Windows 2000/XP) Go to Start > Run, type "regedit" on dialog box then press Enter on keyboard.
- (Windows Vista/7) Go to Start > Search Program and Files, type "regedit" and press Enter.
5. Exit registry editor when you are done.
6. Get rid of Best Malware Protection start-up entry by going to Start > Run, type msconfig on the "Open" dialog box. It will launch a new window containing System Configuration Utility. Click on the Startup tab and uncheck the following item.
(random characters).exe
7.
Click
Apply
. You need to restart the computer.
Best Malware Protection Removal Tool
In order to remove the threat completely, you need to download and run Malwarebytes Anti-Malware. This is a free malware removal tool. If Trojan infection blocks the downloading of this program, get it using a clean computer. Rename the executable file before executing on the infected PC.
Scan with NPE:
A free removal tool from Norton Antivirus was developed to remove unfamiliar threats without using the traditional AV signatures. Download the tool from this location and start scanning with this link.
Alternative Removal Method for Best Malware Protection
Option 1 : Use Windows System Restore to return Windows to previous state
If Best Malware Protection enters the computer, there is a big chance that Windows files, registry entries and other essential components are also infected. System Restore can reinstate clean system files by restoring the configuration to an earlier date. The method also replaces compromised files with a clean version. If you have a saved restore point before Best Malware Protection infiltrates the PC, we highly encourage you to execute this procedure if none of the above works. You may proceed with Windows System Restore, click here to see the full procedure.
Option 2 : Best Malware Protection manual uninstall guide
IMPORTANT! Manual removal of Best Malware Protection requires technical skills. Deleting system files and registry entries by mistake may result to total disability of Windows system. We advise you to perform a backup of registry before proceeding with this guide.
1. Kill any running process that belongs to Best Malware Protection.
- Press Ctrl+Alt+Del on your keyboard.
- When Windows Task Manager appears, look for Best Malware Protection files (refer to Technical Reference) and click End Process.
2. Delete all registry entries that belong to this malware.
- Press [Windows Key]+R on your keyboard.
- In the 'Open' dialog box, type regedit and press Enter. This will open registry editor.
- Find and delete registry entries as mentioned in Technical Reference section below.
- Close registry editor. Changes made will be save automatically.
3. Scan the computer with antivirus program.
- Connect to Internet and open your antivirus software. Please update to obtain the latest database and necessary files.
- Restart the computer in Safe Mode.
- Just before Windows logo begins to load press F8 on your keyboard.
- On Windows Advanced Boot Options, select Safe Mode and press Enter.
4. Delete all files dropped by Best Malware Protection.
- While still in Safe Mode, search and delete malicious files. Please refer to 'Technical Reference'. Make sure that you execute 'End Task' first before deleting the file. Otherwise, the system will not let you perform this action.
Associated Files and Folders:Added Registry Entries: