Clean This
Clean This virus captures the computer through another Trojan infection. To remove 'Clean This' from the computer, run a full scan using an effective anti-malware program.
Clean This or also known as CleanThis virus is believed to be another variant of widely-spread rogue software called Think Point. Clean This is introduced as real anti-virus program on web sites created for promotional purposes. Authors of this malware also spread a Trojan in advance to infect web sites and modify each to run instant virus scan on visitor's computer. The said online scan will show fake detection intended to influence victim to download and install a copy of Clean This. At first glance, innocent user may not know it as a threat. Some may consider the rogue program is useful because it clearly simulate to protect the system. Additionally, Clean This was developed using a nice graphical user interface. Most of all, it may turn out that the fake antivirus was part of the Windows operating system.
Victims may suffer from severe obstruction while using the PC when Clean This virus starts to display a lot of alerts and taskbar warning messages. It also blocks any programs from running and declares that relevant file is infected. This moment is the perfect time to advise the acquisition for full version of Clean This. Several pop-up is displayed suggesting immediate removal of identified Trojans and viruses.
Do not get deceived by this rogue product, start scanning the computer with genuine and effective security software as described below. The removal guide and free tool will help you remove Clean This virus without going through a long process.
Screenshot Image: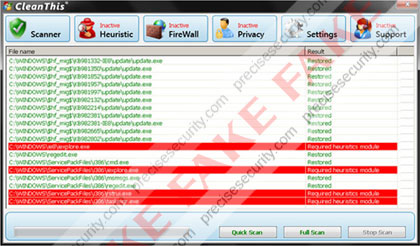 Technical Details and Additional Information:
Damage Level: Medium
Systems Affected: Windows 9x, 2000, XP, Vista, Windows 7
Characteristics (Analysis)
Clean This virus is set to start up automatically by producing registry entry that contains this value:
HKEY_CURRENT_USER\Software\Microsoft\Windows\CurrentVersion\Run "cleanthis"
Malware Behavior
An attempt to run any installed program is blocked by this malware. Instead, it will state that the file is infected through this alert warning:
CleanThis
The application taskmgr.exe was launched successfully but was forced to shut down due to security reasons. This happened because the application was infected by a malicious program which might post a threat for the OS. It is highly recommended to install the necessary heuristic module and perform a full scan of your computer to exterminate malicious programs from it.
How to Remove Clean This
Step 1 : Remove Clean This with this recommended tool
1. First thing you should do is reboot the computer in Safe Mode with Networking to avoid Clean This from loading at start-up.
NOTE: You will need to PRINT or BOOKMARK this procedure, as we have to restart the computer during the removal process.
To start Windows in Safe Mode with Networking, please do the following:
a. Remove all media such as floppy drive, cd, dvd, and USB devices. Then, restart the computer.
b. Before Windows begins to load, press F8 on your keyboard.
c. It will display the Advanced Boot Options menu. Select Safe Mode with Networking.
d. Windows will now start in Safe Mode and at the same time will load necessary drivers so that you can access the Internet.
2. Download the Removal Tool and save it on your Desktop or any location on your PC.
3. When finished downloading, locate and double-click on the file to install the application. Windows' User Account Control will prompt at this point, please click Yes to continue installing the program.
4. Follow the prompts and install with default configuration.
5. Before the installation completes, check prompts that software will run and update on itself.
6. Click Finish. Program will run automatically and you will be prompted to update the program before doing a scan. Please download needed update.
7. When finished updating, the tool will run. Select Perform full scan on main screen to check your computer thoroughly.
8. Scanning may take a while. When done, click on Show Results.
9. Make sure that all detected threats are checked, click on Remove Selected. This will delete all files and registry entries that belongs to Clean This.
10. Finally, restart your computer.
Note: If Clean This prevents mbam-setup.exe from downloading. Download the software from another computer. Renaming it to something like 'anything.exe' can help elude the malware.
Step 2 : Ensure that no more files of Clean This are left inside the computer
1. Click on the button below to download Norton Power Eraser from official web site. Save it to your desktop or any location of your choice.
4. Once the file is downloaded, navigate its location and double-click on the icon (NPE.exe) to launch the program.
5. Norton Power Eraser will run. If it prompts for End User License Agreement, please click on Accept.
6. On NPE main window, click on Advanced. We will attempt to remove Clean This components without restarting the computer.
9. On next window, select System Scan and click on Scan now to perform standard scan on your computer.
10. NPE will proceed with the scan. It will search for Trojans, viruses, and malware like Clean This. This may take some time, depending on the number of files currently stored on the computer.
11. When scan is complete. All detected risks are listed. Remove them and restart Windows if necessary.
Step 3 : Remove the Rootkit Trojan that installs Clean This
For automatic removal of rootkit Trojan using a free tool, you can refer to this guide. Download the tool and carefully follow the instruction.
1. Click on the button below to download the file FixZeroAccess.exe from official web site. A new window or tab will open containing the download link.
2. Close all running programs and remove any disc drives and USB devices on the computer.
3. Temporarily Disable System Restore if you are running on Windows XP). [how to]
4. Browse for the location of the file FixZeroAccess.exe.
5. Double-click on the file to run it. If User Account Control prompts for a security warning and ask if you want to run the file, please choose Run.
6. It will open a Zero Access Fix Tool End User License Agreement (EULA). You must accept this license agreement in order to proceed with rootkit removal. Please click I Accept.
7. It will display a message and prepares the computer to restart. Please click on Proceed.
8. When it shows a message about 'Restarting System' please click on OK button.
9. After restarting the computer, the tool will display information about the identified threats. Please continue running the tool by following the prompts.
10. When it reaches the final step, the tool will show the scan result containing deleted components of Clean This and other identified virus.
Alternative Removal Procedures for Clean This
Option 1 : Use Windows System Restore to return Windows to previous state
During an infection, Clean This drops various files and registry entries. The threat intentionally hides system files by setting options in the registry. With these rigid changes, the best solution is to return Windows to previous working state is through System Restore.
To verify if System Restore is active on your computer, you can type system restore into the Start menu search box. Typing rstrui on the same box and pressing Enter also opens this function.
If previous restore point is saved, you may proceed with Windows System Restore. Click here to see the full procedure.
Option 2 : Clean This manual uninstall guide
IMPORTANT! Manual removal of Clean This requires technical skills. Deleting system files and registry entries by mistake may result to total disability of Windows system. We advise you to perform a backup of registry before proceeding with this guide.
1. Kill any running process that belongs to Clean This.
- Press Ctrl+Alt+Del on your keyboard.
- When Windows Task Manager appears, look for Clean This files (refer to Technical Reference) and click End Process.
2. Delete all registry entries that belong to this malware.
- Press [Windows Key]+R on your keyboard.
- In the 'Open' dialog box, type regedit and press Enter. This will open registry editor.
- Find and delete registry entries as mentioned in Technical Reference section.
- Close registry editor. Changes made will be saved automatically.
3. Scan the computer with antivirus program.
- Connect to Internet and open your antivirus software. Please update to obtain the latest database and necessary files.
- Restart the computer in Safe Mode.
- Just before Windows logo begins to load press F8 on your keyboard.
- On Windows Advanced Boot Options, select Safe Mode and press Enter.
- Thoroughly scan the computer with your updated antivirus software.
4. Delete all files dropped by Clean This.
- While still in Safe Mode, search and delete malicious files. Please refer to 'Technical Reference'. Make sure that you execute 'End Task' first before deleting the file. Otherwise, the system will not let you perform this action.
Technical Reference
Associated Files and Folders:Added Registry Entries:
Troubleshooting Guides
Did Clean This blocks your Internet access?
It is usual that rogue program prevents user from downloading removal tools from the Internet. Thus, infected computer may be denied to access the Internet by making changes to computer's proxy, DNS, and Hosts file. To fix Internet connection problem, follow these steps:
1. Download the free program called MiniToolBox. Click the button below to begin. Save the file on your hard drive or preferably in your Desktop.
2. Close all running Internet browser and double-click on the file to run. It opens a window showing a list of features.
3. Make sure that you have a check mark on the following items : Flush DNS, Reset IE Proxy Settings, and Reset FF Proxy Settings.
4. Click on the GO button to start the process. The program automatically closes and displays a text file for your reference.
5. If the above solution does not work, you may try other method like fixing a virus-blocked Internet access. Make sure that your hosts file is free from any malicious entries. View steps in cleaning Windows host file.
Ways to Prevent Clean This Infection
Here are some guidelines to help defend your computer from virus attack and malware activities. Being fully protected does not have to be expensive.
Install protection software to block Clean This and other threats
Having an effective anti-malware program is the best way to guard your computer against malware and threats. Although full version of anti-malware will cost some penny to obtain, it is still worthy to buy one. With real-time scan, it will be safer for you to browse the web, download files, and do more things online.
Keep all programs up to date
It is important to download critical update for installed programs. Software updates includes patches for security flaw that may utilize by an attacker to enter the computer. This flaw may be taken advantage by Clean This, viruses, and malware to attack the computer. Crucial programs to watch for updates are MS Windows, MS Office, Adobe Flash, Adobe Acrobat, and Java Runtime.
Activate security features of your Internet browser
SmartScreen Filter, Phishing and Malware Protection, and Block Attack Sites are the respective security features of Internet Explorer, Google Chrome, and Mozilla Firefox. Although, it may not fully guard your computer from online attack, at least it can lessen the risk. Enabling these features also helps to secure your private data and avoid identity theft.
Be a responsible Internet user
Antivirus programs and security features of Internet browser facilitates real-time protection and monitors harmful activities online. However, it tends to malfunction for some reasons. Thus, you do not have to be fully dependent on these tools. It is always best to practice safety measures when using the Internet.