Disk Helper is a misleading computer application that can be obtained from a malicious web sites and infected files downloaded from a file-sharing network. Also known as DiskHelper virus, it can be dropped on to computers by means of Trojan infection. Coming from the same group who created other variants like Disk Optimizer and Smart Scan, this additional member will share the same graphical user interface that will act as Defragmentation and Optimization window. It pretends to scan system for errors and inconsistencies. A false information will be supplied after the scan. Its intention was to deceive computer users to pay for the registration key before any fix can be perform on the computer.
Ignore everything about Disk Helper, as long as it belongs to a lists of rogue applications it should be avoided. If infected, remove Disk Helper immediately with a legitimate and powerful anti-malware program. Recommended on this page is a simple step-by-step procedure to remove Disk Helper and all of its components installed on the compromised syste.
Disk Helper Screen Shot: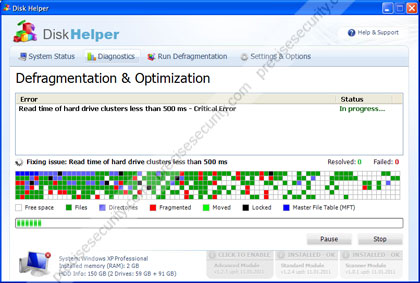 Damage Level: Medium
Systems Affected: Windows 9x, 2000, XP, Vista, Windows 7
Disk Helper Removal Procedures
Disk Helper Removal Tool:
In order to completely remove the threat, click here to download and run Malwarebytes Anti-Malware. Sometimes, Trojans will block the downloading and installation of MBAM. If this happens, download it from a clean computer and rename the executable file before executing on the infected machine.
Using Portable SuperAntiSpyware:
To thoroughly remove the virus, it is best to do a separate scan of another security program so that other infected files not detected by anti-virus application can be remove as well. Click here to download and run SAS Portable Scanner.
Online Virus Scanner:
Another way to remove a virus without the need to install additional anti-virus application is to perform a thorough scan with free Online Virus Scanner that can be found here or on websites of legitimate anti-virus and security provider.