Dream Media Player
Be careful when a site prompts for download of Dream Media Player. This is actually not a legal program. Rather, it is a malware in disguise to mislead visitors and persuade them to download and install a harmful file.
Dream Media Player is a fake multimedia program that will pretend as a needed player to run certain video from discreet malicious web sites. This practice is very common to the operation of Trojan that tries to engage user in its activities. Malware authors often uses video web page to trick visitors into downloading what they think is a useful program. In reality, Dream Media Player add-on may cause a harmful Trojan to infect the computer. In fact, the program file only consists of a harmful code. Installing the fake program never installs the player, instead it starts to load the Trojan on victim's computer and initiate infection processes.
Trojan infection based on this attack pose a serious security threat. The Trojan may communicate with a remote computer to download more malware that brings-in presence of pop-up ads. Additionally, fake programs that are involved in moneymaking scheme may also be part of the infected system. Compromised PC may also suffer from identity theft when the malware begins to logs user name and password when it senses online login attempt by the user.
As mentioned, this fake Dream Media Player will prompt visitor to install the program to be able to view online content. Message that appears on harmful web sites that requires user to download video player contains this message:
"Video Player note: No video player found! You need to install last version of Dream Media Player to watch HQ videos."
Damage Level: Low
Systems Affected: Windows
Screenshot Image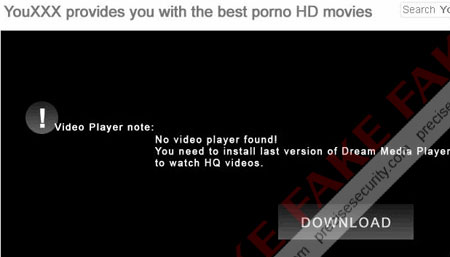 How to Remove Dream Media Player
1. Temporarily Disable System Restore if you are using Windows XP. For Windows Vista/7 users, you may use System Restore to return Windows to a previous clean state. However, you must have a saved restore points to accomplish this. Otherwise, proceed with the removal process.
2. Open your antivirus application and update the virus definition file. This method ensures that your antivirus program can detect even newer variants of Dream Media Player
3. Start Windows in Safe Mode with Networking.
- From a power-off state, turn on the computer and press F8 on your keyboard repeatedly.
- Your computer will display Windows Advanced Boot Options menu. Please select Safe Mode with Networking.
- The system will now boot Windows and loads only necessary drivers and files.
4. Open your antivirus program and run a full system scan. After the scan, delete all infected items. If unable, better place them in quarantine. Once the scan is complete, please proceed with the next step.
Online Virus Scanner:
Another way to remove Dream Media Player without the need to install additional antivirus application is to perform a thorough scan with free online virus scanner that can be found here or on websites of legitimate anti-virus and security provider.
5. Go to Online Virus Scanner list and run a virus scan. This may require plug-ins, add-on or Activex object, please install if you want to proceed with scan.
6. After completing the necessary download, your system is now ready for online virus scanning.
7. Select an option in which you can thoroughly scan the computer to make sure that it will find and delete entirely all infections not detected on previous scan.
8. Remove or delete all detected items.
9. When scanning is finished you may now restart the computer in normal mode.
Automatic Removal of Dream Media Player
In order to completely remove the threat,
click here
to download and run Malwarebytes Anti-Malware. Sometimes, Trojans will block the downloading and installation of MBAM. If this happens, download it from a clean computer and rename the executable file before executing on the infected machine.
Alternative Removal Method for Dream Media Player
Option 1 : Use Windows System Restore to return Windows to previous state
If Dream Media Player enters the computer, there is a big chance that Windows files, registry entries and other essential components are also infected. System Restore can reinstate clean system files by restoring the configuration to an earlier date. The method also replaces compromised files with a clean version. If you have a saved restore point before Dream Media Player infiltrates the PC, we highly encourage you to execute this procedure if none of the above works. You may proceed with Windows System Restore, click here to see the full procedure.