ErrorSweeper was first release in January of 2008 and manage to get back now with a newly designed graphical user interface and probably utilizing a modern approach in distributing itself. This program was already included in the lists of rogue program because of cheating potential customers about the effectiveness of the software. ErrorSweeper will scan computer and display detected threats and system errors that were not really present just to prove its value.
While it's scans computer for viruses and errors, at the same time it was also promoting itself using prompts and pop-up that advise computer users about the importance of buying the registered version. ErrorSweeper is a program you must avoid being on your system. A quick removal of it is necessary using known anti-virus and anti-malware programs that are available either free or in licensed version. With this legal program, you will know that you will get your money's worth.
Screenshot Image: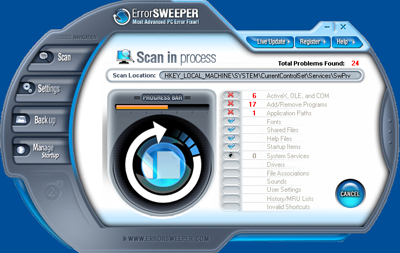 Technical Details and Additional Information:
Damage Level: Medium
Systems Affected: Windows 9x, 2000, XP
Characteristics (Analysis)
ErrorSweeper is a rogue program. Unlike Trojans and viruses, rogues do not reproduce once it enters the system. Typically, a Trojan infection may lead victim into this rogue application. Trojans will alter Internet browser configuration and redirect it to a malicious web site that host the installation file of ErrorSweeper.
Malware Behavior
Just as any fake anti-virus programs, ErrorSweeper attempts to mislead victims by exhibiting a number of fake security alerts. It also shows several infected files found on the system through its own virus scan simulation. These detected threats are fake and do not exist on the computer.