Essential Cleaner is a fake security software that is publicize as a legitimate program by distrust web sites. Essential Cleaner virus frequently distributes over the Internet with the help of a Trojan. It will modify Internet browser's settings so that a search page will keep on redirecting to fake online virus scanner. Hanging on those sites is a malicious Java Script waiting to be installed automatically on your computer. This drive-by-download method will placed a copy of Essential Cleaner on user's computer without their knowledge. A barrage of fake alerts and warning messages will pop-up on the screen proclaiming some system files are infected with a virus.
It has been written repeatedly how rogue programs like Essential Cleaner will act once it is installed on the PC. It will provide similar annoyances from to its previous version called MS Removal Tool. Both aims to lure users and make them believe that system is infected, that is the malware's first objective. This is the same reason why it displays alerts and execute fake virus scan from time to time. Later on, it will force users to pay for the registration key and in return, it promises to remove threats. Having a registered version of a rogue program will not provide any solution or protection. To be able to clean the system, use only real security software. Immediately remove Essential Cleaner virus by doing a complete scan on the computer using the procedure below.
Screenshot Image: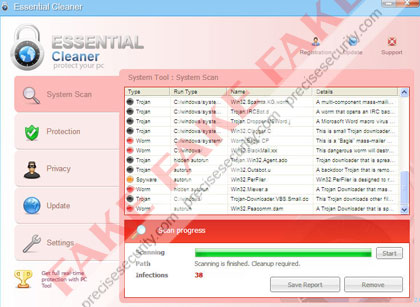 Damage Level: Medium
Systems Affected: Windows 9x, 2000, XP, Vista, Windows 7
Essential Cleaner Removal Procedures
Manual Removal:
1. Press Ctrl+Alt+Del on keyboard to stop process associated to "Essential Cleaner". When Windows Task Manager opens, go to Processes Tab and find and end the following process:
(random characters).exe
2. You need to update your installed antivirus application to have the latest database.
3. Thoroughly scan the computer and any detected threats must be removed. If removal is prohibited, it is best to quarantine the infected item. Manually locating and deleting of malicious files should also be performed. Please see files below that are related to Essential Cleaner Virus.
4. Registry entries created by Essential Cleaner must also be removed from the Windows system. Please refer below for entries associated to the rogue program.
– For Windows 2000/XP: Go to Start > Run, type "regedit" on dialog box then press Enter on keyboard.
– For Windows Vista/7: Go to Start > Search Program and Files, type "regedit" and press Enter.
5. Exit registry editor.
6. Get rid of Essential Cleaner start-up entry by going to Start > Run, type msconfig on the "Open" dialog box. A windows containing System Configuration Utility will be launched. Go to Startup tab and uncheck the following Start-up item(s):
(random characters).exe
7. Click Apply and restart Windows.
Essential Cleaner Removal Tool:
In order to completely remove the threat, click here to download and run Malwarebytes Anti-Malware. Sometimes, Trojans will block the downloading and installation of MBAM. If this happens, download it from a clean computer and rename the executable file before executing on the infected machine.
Using Portable SuperAntiSpyware:
To thoroughly remove the virus, it is best to do a separate scan of another security program so that other infected files not detected by anti-virus application can be remove as well. Click here to download and run SAS Portable Scanner.
Technical Details and Additional Information:
If Essential Cleaner is installed, it will begin to display fake alerts as an scare tactics to mislead victims:
Essential Cleaner Warning
Your PC is infected with dangerous viruses. Activate antivirus protection to prevent data loss and avoid the theft of your credit card details.
Click here to activate protection.
Malicious Files Added by Essential Cleaner:
C:\ProgramData\[random]\[random].dll
C:\ProgramData\[random]\[random].exe
C:\Documents And Settings\All Users\Application Data\[random]\[random].exe
Essential Cleaner Registry Entries:
KEY_CURRENT_USER\Software\Microsoft\Windows\CurrentVersion\RunOnce "[random letters]"