A new breed of rogue program was observed to be propagating on the Internet as a fake Microsoft Security Essentials Alert. Unlike previous counterfeit programs, this one is promoting sets of programs together with other legitimate anti-virus applications. Unknown applications found are Windows Safety Protection, Windows Shield Protector and the most popular and widely-spread of them all is Think Point. Overall, there are 35 various security programs endorsed by Fake Microsoft Security Essentials Alert but any selection focuses on registration of only five programs, a clever trick to impose purchasing of selected fake security programs. For your information and guidelines, authentic Microsoft Security Essentials can be found here.
This kind of infection can be acquired when user have executed malicious file from contracted web site. Microsoft Security Essentials Alert also comes bundled with program that can be downloaded from file-sharing locations. Sometimes a link that directs to unsolicited website is being pass-through instant messaging programs. Once loaded on the computer, it begins to demonstrate powers by issuing fake alerts and virus detection messages. Shortly, it advises users to download counterfeit security programs which names were mentioned earlier. With these references, it is clear on how to avoid being infected with Fake Microsoft Security Essentials Alert. If it happens to overtake your computer, use only legitimate anti-malware application for automatic removal.
Screenshot Image: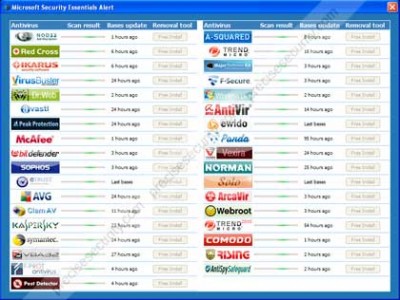 Damage Level: Medium
Systems Affected: Windows 9x, 2000, XP, Vista, Windows 7
Technical Details and Additional Information:
After executing a file from fake online virus scanner, the first alert will be issued. This may lead to another window that endorses a group of antivirus program but only the five rogues have working links. The alert states:
Microsoft Security Essentials Alert
Potential threat details
Microsoft Security Essentials detected potential threats that might compromise your privacy or damage your computer. Your access to these items may be suspended until your action. Click 'Show Details' to learn more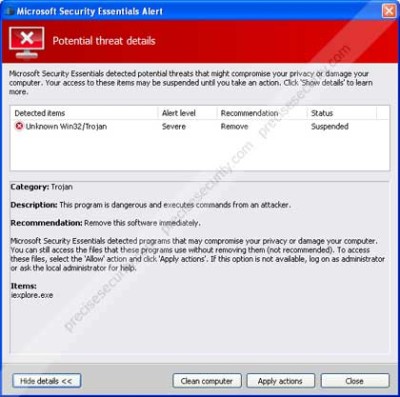 As observed on compromised system, Fake Microsoft Security Essentials Alert will terminate selected applications, particularly when attempting to run them. The unwanted program will alert users that the executable file is infected via these warnings:
"The application taskmgr.exe was launched successfully but it was forced to shut down due to security reasons.
"This happened because the application was infected by a malicious program which might pose a threat for the OS.
"It is highly recommended to install the necessary heuristic module and perform a full scan of your system to exterminate malicious programs from it."
An attempt to convince users to have the licensed version is perpetuated by these warnings:
"Outdated viruses database are not effective can't guarantee adequate protection and security for your PC! Click here to get the full version of the product and update the database!"
"Warning! Database updated failed! Database update failed!"
"Warning! Running trial version!"
"The security of your computer has been compromised! Now running trial version of the software! Click here to purchase the full version of the software and get full protection for your PC!"