HDD Help was identified as another version of fake computer optimization program that is promoted to resolve hard drive and system errors. HDD Help or with alias HDDHelp virus is known for its fake "PC Performance & Stability Analysis Report" that focuses on system and hard drive errors. This is how it differs from other rogue application, it does not pretend as an antivirus program. To be more distinct, it does not perform virus scan, instead it focuses on system errors and hard disk problems. Some of the fake information it displays are:
Windows detected a hard drive problem.
A hard drive error occurred while starting the application.
Requested registry access is not allowed. Registry defragmentation required
Critical Error
A critical error has occurred while indexing data stored on hard drive. System restart required.
Without a doubt, all of these pop-ups are fake, it is very unfortunate that these will be diagnosed on all the computers that has HDD Help installed. It is clear that every computers who got infected with HDD Help will have the same diagnostics and be advise to have the registered version of the application to have the errors fixed. Ignore this potentially unwanted application. All you need to do is download a good anti-malware application and scan computer thoroughyl to completely remove HDD Help.
HDD Help Screen Shot: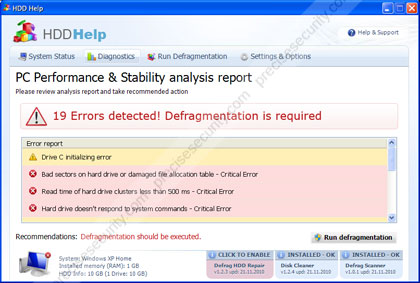 Damage Level: Medium
Systems Affected: Windows 9x, 2000, XP, Vista, Windows 7
HDD Help Removal Procedures
HDD Help Removal Tool:
In order to completely remove the threat, click here to download and run Malwarebytes Anti-Malware. Sometimes, Trojans will block the downloading and installation of MBAM. If this happens, download it from a clean computer and rename the executable file before executing on the infected machine.
Using Portable SuperAntiSpyware:
To thoroughly remove the virus, it is best to do a separate scan of another security program so that other infected files not detected by anti-virus application can be remove as well. Click here to download and run SAS Portable Scanner.
Kaspersky Bootable USB Flash Drive
A tool from Kaspersky will allow you to create a bootable virus scanner that can be run from any computer. This can be boot and run from media drives such as CD, DVD or USB Flash Drive. Download and follow the procedures here.