"macrovirus on-call" is a bogus security program that will disguise itself to identify numerous threats on the system. In fact, this scare tactics will detect virus that are not really present to trick users. This misleading application may get into the computer in various ways. It can be acquired by visiting maliciously crafted web sites that were made to look like online virus scanner. Aside from that, macrovirus on-call virus will also propagate by means of a Trojan. Finding security exploits that will be taken for advantage will load the unwanted application onto victims computer without a catch.
Presence of MacroVirus On-Call will produce a bunch of annoyances that will divert one's attention on false security alerts and warning messages. Eventually, this may lead into purchasing of the licensed version of the rogue software. Ignore MacroVirus On-Call and all of its warnings and activities. Never click on link or execute any pop-up that it will issue. Download a legitimate anti-malware program and immediately remove MacroVirus On-Call. Do this as soon as possible before the fake AV can enhanced itself when it connects to a remote server to download additional threats.
Screen Shot Image: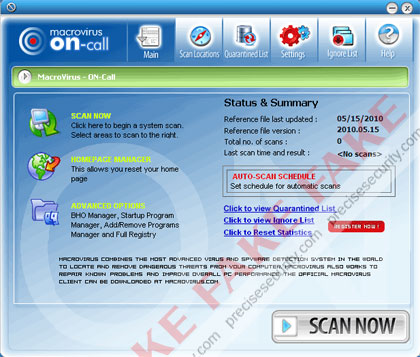 Damage Level: Medium
Systems Affected: Windows 9x, 2000, XP, Vista, Windows 7
"macrovirus on-call" Removal Procedures

"macrovirus on-call" Removal Tool:
In order to completely remove the threat, click here to download and run Malwarebytes Anti-Malware. Sometimes, Trojans will block the downloading and installation of MBAM. If this happens, download it from a clean computer and rename the executable file before executing on the infected computer.

Manual Removal:
Since ""macrovirus on-call"" is using random files, removing this virus manually is a highly complex procedure and may require advance knowledge on computer troubleshooting. We encourage the use of automatic removal to avoid any damages on the system cause by unnecessary registry misconfiguration.
Additional Useful Tools
Using Portable SuperAntiSpyware:
To thoroughly remove the virus, it is best to do a separate scan of another security program so that other infected files not detected by anti-virus application can be get rid as well. Click here to download and run SAS Portable Scanner.
Technical Details and Additional Information:
If "macrovirus on-call" is installed on the system, various files were dropped. In fact, these files are difficult to locate because it uses random file-names. The fake anti-virus will make itself present on compromised computer until the paid version is acquired. "macrovirus on-call" will prevent automatic removal by not having an entry on Add/Remove program of Windows.