Memory Scan is totally fake Windows hard drive tool that commonly spread over the Internet and have evolve in various variants. Just like older released like Memory Optimizer and Smart Scan, this additional member will mimic everything, from the graphical user interface up to the method and process how it can get itself into the victims computer. As expected, Memory Optimizer virus will utilize a Trojan that is capable of sneaking into the system without being detected by installed security application. By using rootkit technology, Trojans can hide themselves and remain invincible under AV radar. Once it has penetrated the PC, Memory Optimizer will be installed without users knowledge. If installation is done, expect that several false alerts will be displayed on the computer and some of them are:
Critical Error
A critical error has occurred while indexing data stored on hard drive. System restart required.
System Restore
The system has been restored after a critical error. Data integrity and hard drive integrity verification required.
These fake alerts are bogus, what it shows does not really exists on the system. In fact, these warning messages will be displayed on different computers as long as they got infected with Memory Scan virus. The purpose is to persuade users into obtaining the paid version of the program. Don't become a victim of this potentially unwanted application. Remove Memory Scan as soon as a presence was detected. We have provided simple removal procedures on this page.
Screen Shot Image: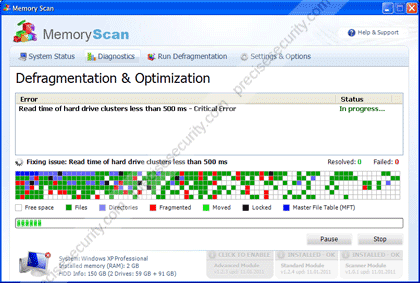 Technical Details and Additional Information:
Damage Level: Medium
Systems Affected: Windows 9x, 2000, XP, Vista
How to Remove Memory Scan
Manual Removal Procedure
1. Press Ctrl+Alt+Del on keyboard to stop the process associated to "Memory Scan". When Windows Task Manager opens, go to Processes tab. Find and end this process.
(random characters).exe
2. You need to update your installed antivirus software. Please connect to the Internet and download the most recent database. This is a one-click process from your AV program's console.
3. Thoroughly scan the computer and remove any threats found by your antivirus program. If delete option is not available, your best next choice is to quarantine the infected file. There is also a need to manually locate and delete malicious files. Please see the file section for items that are relevant to Memory Scan Virus.
4. Next, you need to remove registry entries created by Memory Scan. Please refer to registry section to view entries related to the rogue program. [how to edit registry]
5. Exit registry editor when you are done.
6. Get rid of Memory Scan start-up entry by going to Start > Run, type msconfig on the "Open" dialog box. It will launch a new window containing System Configuration Utility. Click on the Startup tab and uncheck the following item.
(random characters).exe
7.
Click
Apply
. You need to restart Windows.
Memory Scan Virus Removal Tool
For not so technical users that cannot comprehend with the manual removal. This automatic detection and cleaner is recommended. However, you need to download and install a tool to complete this process. The tool is free to download. We highly advise the use of this program to automatically delete all files and registry entries created by Memory Scan. Remember that erasing system files required by the operating system may cause erratic behavior. It may also lead to system malfunction. Proceed with Memory Scan automatic removal.
Use A Portable SuperAntiSpyware:
For complete removal of the virus, carry out a separate scan using different security program. This may catch infected items that evade your previous scan. Download and run SAS Portable Scanner.
Alternative Removal Method for Memory Scan
Option 1 : Use Windows System Restore to return Windows to previous state
If Memory Scan enters the computer, there is a big chance that Windows files, registry entries and other essential components are also infected. System Restore can reinstate clean system files by restoring the configuration to an earlier date. The method also replaces compromised files with a clean version. If you have a saved restore point before Memory Scan infiltrates the PC, we highly encourage you to execute this procedure if none of the above works. You may proceed with Windows System Restore, click here to see the full procedure.
Option 2 : Memory Scan manual uninstall guide
IMPORTANT! Manual removal of Memory Scan requires technical skills. Deleting system files and registry entries by mistake may result to total disability of Windows system. We advise you to perform a backup of registry before proceeding with this guide.
1. Kill any running process that belongs to Memory Scan.
- Press Ctrl+Alt+Del on your keyboard.
- When Windows Task Manager appears, look for Memory Scan files (refer to Technical Reference) and click End Process.
2. Delete all registry entries that belong to this malware.
- Press [Windows Key]+R on your keyboard.
- In the 'Open' dialog box, type regedit and press Enter. This will open registry editor.
- Find and delete registry entries as mentioned in Technical Reference section below.
- Close registry editor. Changes made will be save automatically.
3. Scan the computer with antivirus program.
- Connect to Internet and open your antivirus software. Please update to obtain the latest database and necessary files.
- Restart the computer in Safe Mode.
- Just before Windows logo begins to load press F8 on your keyboard.
- On Windows Advanced Boot Options, select Safe Mode and press Enter.
4. Delete all files dropped by Memory Scan.
- While still in Safe Mode, search and delete malicious files. Please refer to 'Technical Reference'. Make sure that you execute 'End Task' first before deleting the file. Otherwise, the system will not let you perform this action.
Associated Files and Folders:Added Registry Entries: