Microsoft AntiSpyware Center
Do not trust the Microsoft AntiSpyware Center program as specified on this post. It is a fake anti-virus program that will attempt to steal you money by pretending to be a genuine product.
Microsoft AntiSpyware Center is a rogue security software that will act as Online Security Scanner. However, in reality, Microsoft AntiSpyware Center is a virus that will infect user who happens to visit web sites related to it. The web site is using a drive-by-download method to drop and install this fake program on visitor's computer without their consent. Once inside the system, Microsoft AntiSpyware Center will alter system registry that will make itself to run each time Windows starts. From there on, infected PC may face undue pop-up alerts and false warnings that aim to deceive computer users. Additionally, the malware may frequently connect to a remote server to update itself. The first attack is just a "stub" for a more prevalent infection. Instead of dropping the whole package on your PC, author behind this threat device the initial hit to be more obscure.
It is crucial to remove Microsoft AntiSpyware Center virus at once before it can add more harm to your PC. Thoroughly scan the system with real anti-virus software that was created to fight malware and viruses like those that we mentioned on this post. Do not buy the full version of Microsoft AntiSpyware Center because it will never help in easing your computer problems. Always remember to check this web site for recent malware update so that you may avoid the latest version of rogue product. Also, check our lists of malware if you bump into suspicious software to verify its identity before you load it to your computer.
Microsoft AntiSpyware Center Screen Shot: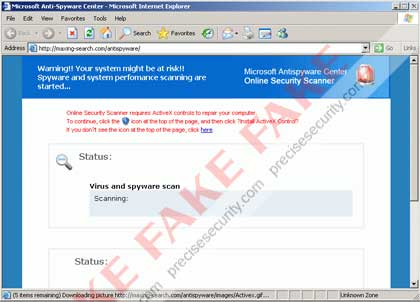 Technical Details and Additional Information:
Damage Level: Medium
Systems Affected: Windows 9x, 2000, XP, Vista, Windows 7
[cf]regis[/cf] [cf]files[/cf]
How to Remove Microsoft AntiSpyware Center
Microsoft AntiSpyware Center Removal Tool:
In order to completely remove the threat, click here to download and run Malwarebytes Anti-Malware. Sometimes, Trojans will block the downloading and installation of MBAM. If this happens, download it from a clean computer and rename the executable file before executing on the infected machine.
Using Portable SuperAntiSpyware:
To thoroughly remove the virus, it is best to do a separate scan of another security program so that other infected files not detected by anti-virus application can be remove as well. Click here to download and run SAS Portable Scanner.
Online Virus Scanner can eliminate Microsoft AntiSpyware Center virus:
Another way to remove a virus without the need to install additional anti-virus application is to perform a thorough scan with free Online Virus Scanner that can be found here or on web sites of legitimate computer security provider.
Alternative Removal Method for Microsoft AntiSpyware Center
Option 1 : Use Windows System Restore to return Windows to previous state
If Microsoft AntiSpyware Center enters the computer, there is a big chance that Windows files, registry entries and other essential components are also infected. System Restore can reinstate clean system files by restoring the configuration to an earlier date. The method also replaces compromised files with a clean version. If you have a saved restore point before Microsoft AntiSpyware Center infiltrates the PC, we highly encourage you to execute this procedure if none of the above works. You may proceed with Windows System Restore, click here to see the full procedure.
Option 2 : Microsoft AntiSpyware Center manual uninstall guide
IMPORTANT! Manual removal of Microsoft AntiSpyware Center requires technical skills. Deleting system files and registry entries by mistake may result to total disability of Windows system. We advise you to perform a backup of registry before proceeding with this guide.
1. Kill any running process that belongs to Microsoft AntiSpyware Center.
- Press Ctrl+Alt+Del on your keyboard.
- When Windows Task Manager appears, look for Microsoft AntiSpyware Center files (refer to Technical Reference) and click End Process.
2. Delete all registry entries that belong to this malware.
- Press [Windows Key]+R on your keyboard.
- In the 'Open' dialog box, type regedit and press Enter. This will open registry editor.
- Find and delete registry entries as mentioned in Technical Reference section below.
- Close registry editor. Changes made will be save automatically.
3. Scan the computer with antivirus program.
- Connect to Internet and open your antivirus software. Please update to obtain the latest database and necessary files.
- Restart the computer in Safe Mode.
- Just before Windows logo begins to load press F8 on your keyboard.
- On Windows Advanced Boot Options, select Safe Mode and press Enter.
4. Delete all files dropped by Microsoft AntiSpyware Center.
- While still in Safe Mode, search and delete malicious files. Please refer to 'Technical Reference'. Make sure that you execute 'End Task' first before deleting the file. Otherwise, the system will not let you perform this action.
Technical Reference
Associated Files and Folders:Added Registry Entries: