Registry Virus Scanner is a fake Windows utility application. It will attempt to mislead computer users with false-positive scan results. After it scans the computer, it will show fake message stating "Warning: Errors were detected in your computer's registry." This threat is also advertised as Registry Cleaner, but in real world of computer security, it has no capability to scan and fix Windows registry. In fact, it was solely developed in the purpose of misleading people. Then, it will entice them to pay for the full version of the software. Either unregistered or paid version of Registry Virus Scanner will not help in fixing your computer errors. Actually, registry error that appears on the screen after its scan does not really exist on your system.
You may have prevented malicious software such as Registry Virus Scanner if an anti-malware program is present on the PC. Anti-malware product that has real-time virus scanning can block your Internet traffic leading to malicious web sites were you can acquire the malware. It will also deter you from downloading and running any program that it finds harmful to the computer. If Registry Virus Scanner has already inside your computer, remove it at once by running a full scan of valid security product. Below is a simple solution and removal tool that you may follow to get rid of the threat and all of its files and process.
Screenshot Image: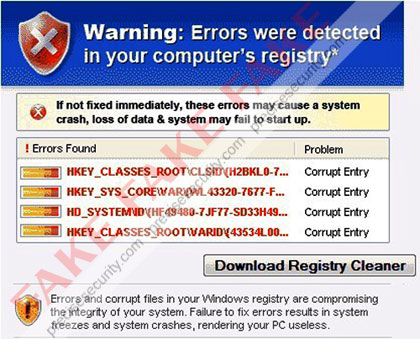 Damage Level: Medium
Systems Affected: Windows 9x, 2000, XP, Vista, Windows 7
Registry Virus Scanner Removal Procedures
Manual Removal:
1. Press Ctrl+Alt+Del on keyboard to stop process associated to "Registry Virus Scanner". When Windows Task Manager opens, go to Processes Tab and find and end the following process:
(random characters).exe
2. You need to update your installed antivirus application to have the latest database.
3. Thoroughly scan the computer and any detected threats must be removed. If removal is prohibited, it is best to quarantine the infected item. Manually locating and deleting of malicious files should also be performed. Please see files below that are related to Registry Virus Scanner Virus.
4. Registry entries created by Registry Virus Scanner must also be remove from the Windows system. Please refer below for entries associated to the rogue program. [how to edit registry]
5. Exit registry editor.
6. Get rid of Registry Virus Scanner start-up entry by going to Start > Run, type msconfig on the "Open" dialog box. A windows containing System Configuration Utility will be launched. Go to Startup tab and uncheck the following Start-up item(s):
(random characters).exe
7. Click Apply and restart Windows.
Registry Virus Scanner Removal Tool:
1. Download Malwarebytes' Anti-Malware (mbam-setup.exe) here and save it on your Desktop.
2. After downloading, double-click on the file to install the application.
3. Follow the prompts and install as "default" only
4. If it prompts to update the database after installation, please proceed.
5. Click "Finish." Program will run automatically and you will be prompt to update the program before doing a scan. Please update.
6. Scan your computer thoroughly.
7. When scanning is finished, click on the "Show Results"
8. Make sure that all detected threats are marked, click on Remove Selected.
9. Restart the computer.
Note: MALWARE may prevent mbam-setup.exe from downloading and running. You can download and rename this program from a different computer before running it on infected system.
Technical Details and Additional Information:
Malicious Files Added by Registry Virus Scanner:
%PROGRAM_FILES%\Registry Virus Scanner
c:\Documents and Settings\All Users\Registry Virus Scanner\
c:\Documents and Settings\All Users\Start Menu\Registry Virus Scanner\
Registry Virus Scanner Registry Entries:
HKEY_LOCAL_MACHINE\Software\Registry Virus Scanner
HKEY_CURRENT_USER\Software\Microsoft\Windows\CurrentVersion\Run "Registry Virus Scanner"