RegistryCleanFix
RegistryCleanFix is a fake Windows registry utilities that may report false errors found on the computer. RegistryCleanFix may install itself on the system without any intervention from the user. A Trojan related to this rogue program will be able to penetrate Windows without being detected by anti-virus application. Also called as Registry Clean Fix 2007, this malicious application will flood the desktop with annoying alerts and pop-up messages. It will also run its own scan that will produce dozes of fake results.
Screen Shot Image: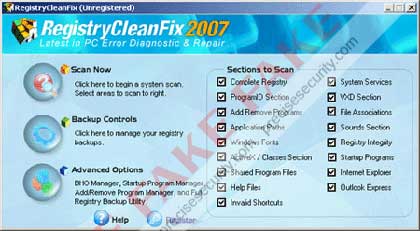 Other Alias: Registry Clean Fix 2007
Threat Level: Low
Systems Affected: Windows – All
Manual Removal of RegistryCleanFix:
1. Temporarily Disable System Restore (Windows Me/XP/Vista/7) . [how to]
2. Update the virus definitions.
3. Reboot Windows in Safe Mode. [how to]
4. Run a full system scan and clean/delete all infected files.
5. Delete/Modify any values added to the registry. [how to edit registry]
Navigate to and delete the following registry subkey:
HKEY_CURRENT_USER\Software\FCRMFC
6. Exit registry editor and restart Windows.
7. In order to make sure that threat is completely eliminated, carry out a full scan of your system using AntiVirus and Antispyware Software. Another way to delete the virus using various Antivirus Program without the need to install can be done with Online Virus Scanner.
Anti-Malware Tools
Manual removal provided on this page may or may not successfully remove RegistryCleanFix. To completely get rid of the virus and other malicious software that may have been installed, we suggest running these tools.
MalwareBytes' Anti-Malware
In order to completely remove RegistryCleanFix from a system, click here to download and run Malwarebytes Anti-Malware. Sometimes, Trojans will block the downloading and installation of MBAM. If this happens, download it from a clean PC and rename the executable file before executing on the infected machine.
Using Portable SuperAntiSpyware:
To thoroughly clean a computer, it is best to do a separate scan of another security program so that other infected files not detected by anti-virus application can be remove as well. Click here to download and run SAS Portable Scanner.
Alternative Removal Method for RegistryCleanFix
Option 1 : Use Windows System Restore to return Windows to previous state
If RegistryCleanFix enters the computer, there is a big chance that Windows files, registry entries and other essential components are also infected. System Restore can reinstate clean system files by restoring the configuration to an earlier date. The method also replaces compromised files with a clean version. If you have a saved restore point before RegistryCleanFix infiltrates the PC, we highly encourage you to execute this procedure if none of the above works. You may proceed with Windows System Restore, click here to see the full procedure.