Sacem F Ukash
If you observed that Sacem F blocks your access to the computer, then your computer is infected with a Winlocker virus. Sacem F virus attempts to scare you with an offense of illegal downloads of music files then prompts to pay for a penalty to regain access to the computer.
Sacem F Ukash is another ransom program that belongs to Winlocker family. This version is very much identical to other variants in nature. It locks the computer until you pay for the ransom fee of 100 Euro. After payment, you may retake control of the PC by inserting the voucher code in the given slot of the Sacem F desktop screen.
Main tactic employed on this type of attack is the use of genuine logo from known authorities. They pretend to be from agencies that closely monitors Internet for illegal activities. Sacem F uses this scene to scare users that may lead to deception and later persuade them to pay what it called 'fine'. Several offenses including illegal use of copyrighted materials and pirated programs are some issues it raises toward users. It claims that illicit objects were found and unlawful online activities were detected. For this reason, Sacem F forced to lock the computer to avoid further actions. Infected computer will display the following message:
Votre ordinateur a ete verrouille.
Des morceaux de musique telecharges illegalement (pirates) ont ete localises sur votre ordinateur.
When translated to English, the message states that:
Your computer was locked.
Music tracks illegally  (pirated) downloaded were found on your computer.
Malware authors are using ingenious code for this threat and quickly shifts the attack between regions or country. There are also reports that Sacem F and other Winlocker Trojan are made available as affiliate program. Thus, don't be surprise that in the coming days more and more malware of this kind will flood the Internet to infect as many users as it could.
Screenshot Image: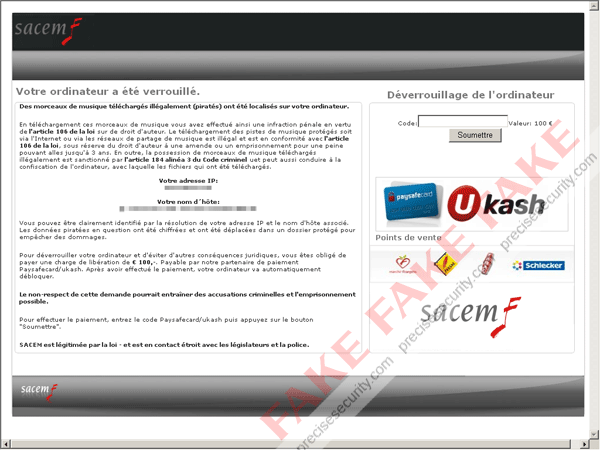 Technical Details and Additional Information:
Damage Level: Medium
Systems Affected: Windows 9x, 2000, XP, Vista, Windows 7
How to Remove Sacem F Ukash
Download Kaspersky Rescue Disk to Uninstall Sacem F Virus
1. Download the ISO image of Kaspersky Rescue Disk 10 (kav_rescue_10.iso) from this link.
2. Download the Kaspersky Rescue Disk Maker (rescue2usb.exe) from this link.
Create A Bootable USB Drive
3. Insert a clean USB flash drive to available slot. To record the ISO file and create a bootable USB drive, double-click on rescue2usb.exe. It will extract the files and create a folder called Kaspersky Rescue2Usb.

4. Kaspersky USB Rescue Disk Maker should run after the extraction. If not browse the Kaspersky Rescue2Usb folder and run the rescue2usb file.
5. From Kaspersky USB Rescue Disk Maker console, click on Browse and locate the file kav_rescue_10.iso.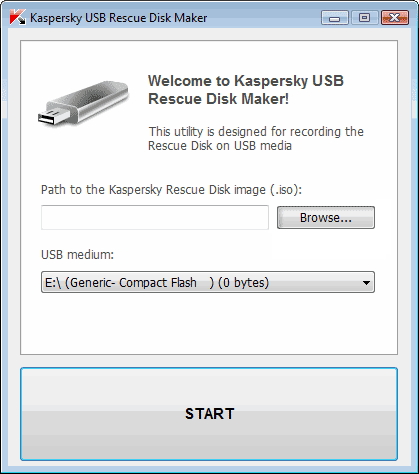 6. On USB Medium, select the USB drive you wanted to make as bootable Kaspersky USB Rescue Disk. This will become a bootable virus scanner.
7. Click in Start to begin the process.
8. When the process is complete, it will display a notification message. Your tool to remove Sacem F Ukash virus is now ready.

Boot The Computer From The USB Kaspersky Rescue Disk 10
9. Since Sacem F Ukash virus uses a rootkit Trojan that controls Windows boot functions, we need to reboot the computer and select the newly created Kaspersky USB Rescue Disk as first boot option. On most computers, it will allow you to enter the boot menu and select which device or drives you wanted to start the PC. Refer to your computer manual.
10. If you successfully enters the boot menu, choose the USB flash drive. This will boot the system on Kaspersky Rescue Disk. Press any key to enter the menu.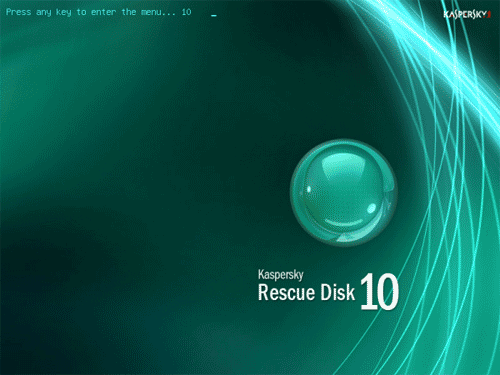 11. If it prompts for desired language, use arrow keys to select and then press
Enter
on your keyboard.
12. It will display
End User License Agreement
. You need to accept this term to be able to use Kaspersky Rescue Disk 10.
Press 1
to accept.
13. The tool will prompt for various start-up methods. We highly encourage you to choose Kaspersky Rescue Disk Graphic Mode.
Remove Sacem F Ukash virus Using Windows Unlocker
14. Once the tool is running, you need to run WindowsUnlocker in order to delete registry that belongs to Sacem F Ukash virus. On start menu located at bottom right corner of your screen, select the K icon or select WindowsUnlocker if it is present on the Menu.
15. Select Terminal from the list. A command prompt will open.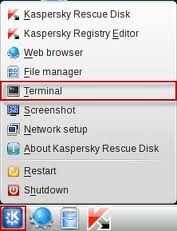 16. Type
windowsunlocker
and press
Enter
on your keyboard.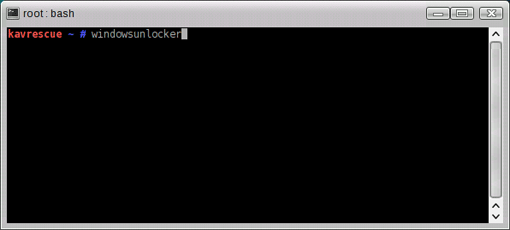 17. From the selection,
choose 1 - Unlock Windows
to remove Sacem F Ukash virus. Use
up/down
arrow on keyboard to select and press
Enter
.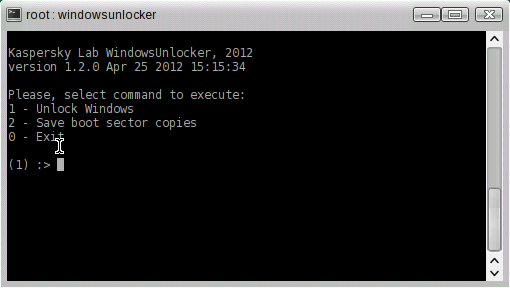 18. This utility will start removing any components that blocking you from accessing the computer. It will display a log file containing actions performed on the infected computer like deleted infected file and removed registry entries.
19. After removing components of Sacem F Ukash virus . You need to scan the system using the same tool. On start menu, select Kaspersky Rescue Disk.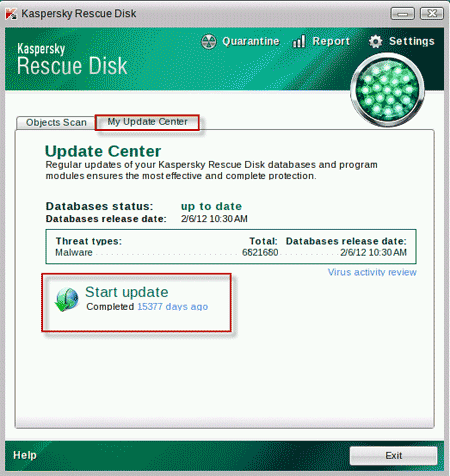 20. Be sure to update the program by going to My Update Center tab. Click on Start update.
21. After the update, go to Object Scan tab and thoroughly scan the computer to locate other files that belong to Sacem F Ukash virus .
22. Restart the computer normally when done.
Alternative Removal Method for Sacem F Ukash
Option 1 : Use Windows System Restore to return Windows to previous state
If Sacem F Ukash enters the computer, there is a big chance that Windows files, registry entries and other essential components are also infected. System Restore can reinstate clean system files by restoring the configuration to an earlier date. The method also replaces compromised files with a clean version. If you have a saved restore point before Sacem F Ukash infiltrates the PC, we highly encourage you to execute this procedure if none of the above works. You may proceed with Windows System Restore, click here to see the full procedure.