Security Cleaner Pro is a computer malware that is also known to many as rogue program. It disguises as a helpful tool in removing computer virus but in reality, it will just perform fraud acts once inside the computer. Fake alerts and warnings will appear on the system where Security Cleaner Pro is installed. Aside from that, users will also see virus scan each time Windows starts. Since it is fake antivirus software, result from its scan is likely reveal to deceive computer uses and force them to purchase the Security Cleaner Pro registration key.
Browser is also affected by the fake tool, it hijacks web browser to display a fake security warning web page that also promotes Security Cleaner Pro. The page explains that viruses on the computer prevent access to the Internet. Then it advises to obtain the full version of the rogue security program.
Normally, Security Cleaner Pro is deployed via another Trojan or malware. This threat is made to look for any security holes or flaw on the system. Exploiting the weakness on the computer allows the Trojan to enter the system and from there, it will download a copy of Security Cleaner Pro from the remote server. User will see no trace of this action because it operates very discretely. Even installed antivirus program may not be able to detect the ongoing attack.
If Security Cleaner Pro compromises your computer, we highly suggest running a scan for various security tools. It will remove not only the fake antivirus but all Trojans and malware as well that causes the infection.
Screenshot Image: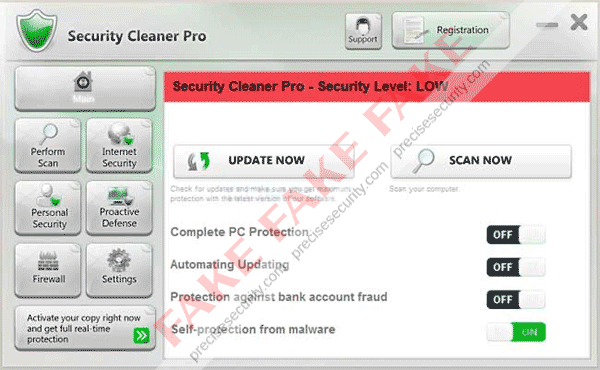 How to Remove Security Cleaner Pro
Systematic procedures to get rid of the threat are presented on this section. Make sure to scan the computer with suggested tools and scanners.
Step 1 : Activating Security Cleaner Pro
The malware will block running of any programs. It also prevents access to Internet particularly anti-virus web sites. Execution of Windows tools like Task Manager, Registry Editor and Control Panel is similarly block by the rogue program. Activating the program using the registration key below will regain access to the mentioned services.
Once activated, downloading of necessary program to scan and remove Security Cleaner Pro is now possible. Use the registration code below. If it prompts for email address, you can input any email address.
Activation Code: YKGVWHVSFETPXBIMDXUJSUYGPRADAOHZ
Step 2 : Scan the computer with recommended removal tool
1. First thing you should do is reboot the computer in Safe Mode with Networking to avoid Security Cleaner Pro from loading at start-up.
NOTE: You will need to PRINT or BOOKMARK this procedure, as we have to restart the computer during the removal process.
Remove all media such as Memory Card, cd, dvd, and USB devices. Then, restart the computer and please do the following:
Boot in Safe Mode on Windows XP, Windows Vista, and Windows 7 system
a) Before Windows begins to load, press F8 on your keyboard.
b) It will display the Advanced Boot Options menu. Select Safe Mode.
Start computer in Safe Mode using Windows 8 and Windows 10
a) Close any running programs on your computer.
b) Get ready to Start Windows. On your keyboard, Press and Hold Shift key and then, click on Restart button.
c) It will prompt you with options, please click on Troubleshoot icon.
d) Under Troubleshoot window, select Advanced Options.
e) On next window, click on Startup Settings icon.
f) Lastly, click on Restart button on subsequent window.
g) When Windows restarts, present startup options with numbers 1 - 9. Select "Enable Safe Mode with Networking" or number 5.
h) Windows will now boot on Safe Mode with Networking. Proceed with virus scan as the next step.
2. Download the Removal Tool and save it on your Desktop or any location on your PC.
3. When finished downloading, locate and double-click on the file to install the application. Windows' User Account Control will prompt at this point, please click Yes to continue installing the program.

4. Follow the prompts and install with default configuration.
5. Click Finish after successful installation. Program will run automatically and you will be prompted to download software updates. Please download needed update.
6. When finished updating, the tool will run. Click on Scan tab from Top Menu of main screen. Then, choose Threat Scan (Recommended) to check your computer thoroughly.
7. Click on Start Scan to begin. Scanning may take a while. When done, this tool will display lists of identified threats.
8. Make sure that all detected threats are checked, click on Remove Selected. This will delete all files and registry entries that belongs to Security Cleaner Pro.
9. Finally, click Finish and restart your computer.
Note: If Security Cleaner Pro prevents mbam-setup.exe from downloading. Download the software from another computer. Renaming it to something like 'anything.exe' can help elude the malware.
Step 3 : Ensure that no more files of Security Cleaner Pro are left inside the computer
1. Click on the button below to download Norton Power Eraser from official web site. Save it to your desktop or any location of your choice.
2. After downloading, navigate its location and double-click on the NPE.exe file to launch the program.
3. Norton Power Eraser will run. If it prompts for End User License Agreement, please click on Accept to proceed.
4. On NPE main window, click on Advanced Options. We will attempt to remove "Security Cleaner Pro" by thoroughly scanning your current operating system.
5. On next window, select System Scan and click on Scan now to perform standard scan on your computer.
6. NPE will proceed with the scan. It will search for Trojans, viruses, and malware like Security Cleaner Pro. This may take some time, depending on the number of files currently stored on the computer.
7. When scan is complete. All detected risks are listed. Click on Fix Now to remove Security Cleaner Pro and other known threats. Then, restart Windows if necessary.
Step 4 : Remove the Rootkit Trojan that installs Security Cleaner Pro
Rootkit Remover is a stand-alone utility developed by McAfee. It can be used to detect and remove rootkit Trojan that is associated with Security Cleaner Pro. This tool can detect rootkit that is part of ZeroAccess, Necurs, and TDSS family.
1. Download Rootkit Remover and save it to your desktop or any accessible location. Click the button below to begin the download.
2. Locate the file rootkitremover.exe and double-click to run the program.
3. When User Account Control prompts if you want to allow the program to make changes on the computer, please click Yes.
4. Rootkit Remover instantly scans the computer and look for presence of Trojans, viruses, and rootkit that is related to Security Cleaner Pro .
5. Once it finishes scanning the computer, the tool will require you to restart Windows.
Alternative Removal Procedures for Security Cleaner Pro
Use Windows System Restore to return Windows to previous state
During an infection, Security Cleaner Pro drops various files and registry entries. The threat intentionally hides system files by setting options in the registry. With these rigid changes, the best solution is to return Windows to previous working state is through System Restore.
To verify if System Restore is active on your computer, please follow the instructions below to access this feature.
Access System Restore on Windows XP, Windows Vista, and Windows 7
a) Go to Start Menu, then under 'Run' or 'Search Program and Files field, type rstrui.
b) Then, press Enter on the keyboard to open System Restore Settings.
c) Windows will display list of saved restore points. Select the most recent one to restore Windows to previous working and clean state.
d) It may take some time to fully restore back-up files. Restart Windows when done.
Open System Restore on Windows 8 and Windows 10
a) For Windows 8 user, go to Start Search, while on Windows 10, use the Start Menu Search and type rstrui.
b) Click on the located program to open System Restore window.
c) Windows will display list of saved restore points if it is active. Select the most recent one to restore Windows to previous working and clean state.
d) It may take a while to fully restore back-up files. Restart Windows when done.
If previous restore point is saved, you may proceed with Windows System Restore.
Troubleshooting Guides
Did Security Cleaner Pro blocks your Internet access?
It is usual that rogue program prevents user from downloading removal tools from the Internet. Thus, infected computer may be denied to access the Internet by making changes to computer's proxy, DNS, and Hosts file. To solve Internet connection problem, please see our guide in fixing a virus-blocked Internet access. Also, make sure that your Windows Host File is free from any malicious entries. View steps in cleaning Windows host file.