Security Hijack is a malicious file or code that is embedded on to the compromised system. This action will result to block users from visiting security web sites. It prevents victim's access to some legitimate anti-virus web sites and instead browser will be redirected to a fake error page that promotes rogue security programs. Security Hijack also modifies Internet browser settings and registry entries to perform its illegal actions. The malware may also hijack search results with its own outcome that when clicked will bring user to malicious web address.
This type of malware may remain invisible to some anti-virus program due to its ability to inject its code on valid system processes so that only one copy is visible on the system. While the malware is running, it will produce fake notices and deceiving ploy. Moreover, Security Hijack will create some software add-ons and replaces the home page settings of your Internet browser. Most frequently, it may open a new browser window that will present an online virus scanning and offers a removal tool that you can only used after paying for the full version of the program.
An effective security tool removal can be found below this page. It can remove Security Hijack including all files and entries embedded into your computer. After installing, be sure that you will update the database so that the tool may catch even most recent versions of malware and viruses that exists on the PC.
Screenshot Image of Security Hijack: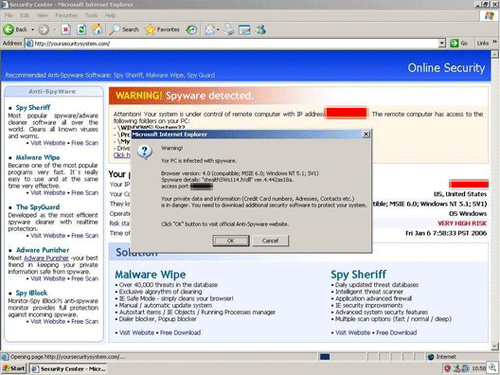 Damage Level: Medium
Systems Affected: Windows 9x, 2000, XP, Windows Vista