Security Monitor 2012 will disguise as a legitimate security software to attract computer users. In support of this purpose, this virus will provide a series of fake security warnings stating that several threats are detected on the computer.
The truth is, Security Monitor 2012 comes from a family of rogue security software. In fact, it is a successor to unpopular version called Security Solution 2011. Both fake anti-virus programs uses the same skin to appear like a real security product but what lies behind is a shocking truth that it may steal money from your credit card account. Every single minute, this rogue security application will demand user to obtain the license version in order to remove threats. It only accepts credit card payment so there is a huge possibility that naïve computer users may submit to this requirement so resolve computer issues. Thus, malware author charges the credit card for corresponding amount and keep the account to be used for other fraudulent online transactions.
Screen Shot Image: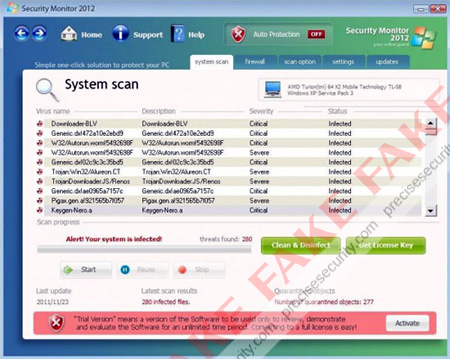 Technical Details and Additional Information:
Security Monitor 2012 is Also Detected As:
TR/Crypt.ZPACK.Gen (AntiVir), Trojan.Crypt.ZPACK.Gen, Sus/UnkPack-C (Sophos)
Damage Level: Medium
Systems Affected: Windows 9x, 2000, XP, Vista, Windows 7
Characteristics (Analysis)
Typically, rogue program such as Security Monitor 2012 uses Internet connection to spread itself. Authors behind this virus see a lot of advantages in using the Internet and hit the target computer with ease. Dropping and installing Security Monitor 2012 on user's PC without their approval is possible with the use of Trojan that can breach security vulnerabilities. Other avenue for propagation includes spam email messages, social networking sites and malicious web sites.
Malware Behavior
When executed on the computer, Security Monitor 2012 directly hit the system by dropping a number of files. It also integrates self on Windows start-up by placing own code on the registry. Once loaded when Windows starts, Security Monitor 2012 will demonstrate annoying security alerts and fake virus detection. This tactic aims to entice user into obtaining the licensed version of Security Monitor 2012.
Some of the false warning it may provide includes the following:
WARNING! 222 threats detected
Detected malicious programs can damage your computer and compromise your privacy.
It is strongly recommended to remote them immediately!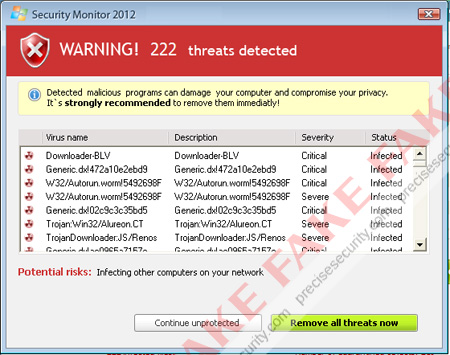 Unauthorized remote connection!
Your system is making an unauthorized personal data transfer to remote computer!
Remote IP: 127.127.27.17
Local IP: 190.141.127.19
Port: 25514
System Info
Malicious applets have been discovered in the Java cache directory. Anti-virus program have detected such malicious applets in the following directory
C:\Documents and Settings\Application Data\Sun\Java\Deployment\cache\6.0\