Security Solution 2011
To stop fake alerts and warnings coming from Security Solution 2011, you need to remove the fake program first. Use a valid anti-malware program to uninstall the bogus software.
Security Solution 2011 is a rogue anti-virus software. Attackers are using the Internet to distribute this malware and promote them as a useful tool. This fake AV commonly arrives on computers with the help of a Trojan. It will sneak into the system by breaching weak spot on your software and security measures. Trojan can install a copy of Security Solution 2011 virus on the computer and carry changes without catching your antivirus attention. Once inside and loaded, it may modify system registry and add its own entry that will make Security Solution 2011 to run every time Windows starts. Infected computer may also suffer from a barrage of fake alerts and security messages. Additionally, the malware will advice victim to purchase the full version in order to remove detected threats.
Having been infected with Security Solution 2011 will not appease in just having the fake software inside your system. This rogue program will always attempt to persuade users into purchasing the registered version of it. It may add more troubles to annoy users and force them to obtain the fake program. It also renders installed anti-virus product useless. Any program you try to run will be blocked by this malware and state that the file is infected with Trojan. Worst, Security Solution 2011 virus will disable the computer and make it unusable.
To stop these difficulties, immediately remove Security Solution 2011 using a legitimate and powerful anti-malware program. Follow the procedure on this page to completely get rid of this potentially unwanted software.
Screen Shot Image: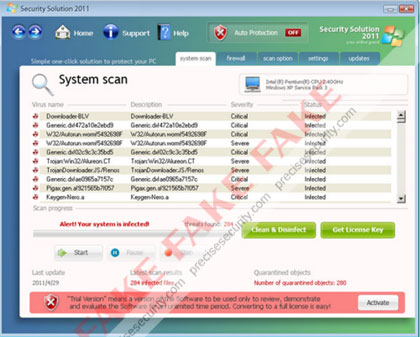 Damage Level: Medium
Systems Affected: Windows 9x, 2000, XP, Vista, Windows 7
Security Solution 2011 Removal Procedures
Manual Removal:
1. Press Ctrl+Alt+Del on keyboard to stop process associated to "Security Solution 2011″. When Windows Task Manager opens, go to Processes Tab and find and end the following process:
Security Solution.exe
securitymanager.exe
2. You need to update your installed antivirus application to have the latest database.
3. Thoroughly scan the computer and any detected threats must be removed. If removal is prohibited, it is best to quarantine the infected item. Manually locating and deleting of malicious files should also be performed. Please see files below that are related to Security Solution 2011 Virus.
4. Registry entries created by Security Solution 2011 must also be remove from the Windows system. Please refer below for entries associated to the rogue program. [how to edit registry]
5. Exit registry editor.
6. Get rid of Security Solution 2011 start-up entry by going to Start > Run, type msconfig on the "Open" dialog box. A windows containing System Configuration Utility will be launched. Go to Startup tab and uncheck the following Start-up item(s):
Security Solution.exe
securitymanager.exe
7. Click Apply and restart Windows.
Security Solution 2011 Removal Tool:
In order to completely remove the threat, click here to download and run Malwarebytes Anti-Malware. Sometimes, Trojans will block the downloading and installation of MBAM. If this happens, download it from a clean computer and rename the executable file before executing on the infected machine.
Scan with Norton Power Eraser:
A free removal tool from Norton Antivirus was developed to remove unfamiliar threats without using the traditional AV signatures. Download the tool from this location and start scanning the computer for viruses.
Technical Details and Additional Information:
Malicious Files Added by Security Solution 2011:
%AllUsersProfile%\Application Data\[RANDOM CHARACTERS].dat
%AllUsersProfile%\Application Data\[RANDOM CHARACTERS].ico
UserProfile%\Application Data\Microsoft\Internet Explorer\Quick Launch\Security Center.lnk
%UserProfile%\Desktop\Security Center.lnk
%Temp%\wrk4.tmp
%Temp%\ins2.tmp
%Temp%\mv3.tmp
Security Solution 2011 Registry Entries:
HKEY_LOCAL_MACHINE\SYSTEM\CurrentControlSet\Services\Shared Access\Parameters\Firewall Policy\StandardProfile\Authorized Applications\List "C:\WINDOWS\system32\rundll32.exe" = 'C:\WINDOWS\system32\rundll32.exe:*:Enabled:Security Center'
HKEY_CURRENT_USER\Software\Microsoft\Windows\CurrentVersion\Run "[RANDOM CHARACTERS]"
Alternative Removal Method for Security Solution 2011
Option 1 : Use Windows System Restore to return Windows to previous state
If Security Solution 2011 enters the computer, there is a big chance that Windows files, registry entries and other essential components are also infected. System Restore can reinstate clean system files by restoring the configuration to an earlier date. The method also replaces compromised files with a clean version. If you have a saved restore point before Security Solution 2011 infiltrates the PC, we highly encourage you to execute this procedure if none of the above works. You may proceed with Windows System Restore, click here to see the full procedure.