Computer users must be warn that the malware called Security Shield has returned in the presence of Smart Fortress 2012. So, as early as this day, treat this post as a warning for Internet users to be cautious as it is the main source of Smart Fortress 2012 virus infection. This fake AV will utilize the Internet to spread itself in a variety of method. One is via fake security web sites. If you are fond of going to strange adult web sites, then your computer has high risk of acquiring Smart Fortress 2012. Moreover, spam emails with attractive messages may contain link pointing to their servers that when click, may install the fake software unknown to you. You must take these tips seriously to avoid the infection. A good anti-malware product should be protecting your system at all times.
Disregarding our warning about Smart Fortress 2012 will not only bring troubles on the affected PC. It may also inflict serious financial troubles on your end when you purchase the program. It is designed to steal financial data like personal information and credit card details. Attackers may use this record on other fraud online deals.
If in case you are a gullible victim of Smart Fortress 2012, please disregard its actions. It will produce a number of alerts and warnings. Do not believe it. The rogue software also scans the system and show an exaggerated report. It is false. First thing to do is to use a genuine program to combat this malware. Download a good and effective solution to remove Smart Fortress 2012 from an infected computer. Purchasing Smart Fortress 2012 is not an option. As stated, it will not grant answer to your current crisis but rather makes things worst. Simply follow the removal guide on this page to delete Smart Fortress 2012 from your computer with ease.
Screenshot Image of Smart Fortress 2012: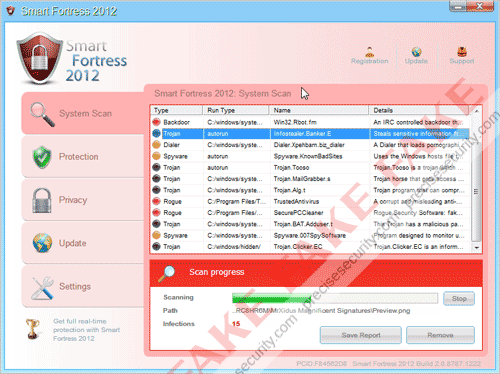 Technical Details and Additional Information:
Damage Level: Medium
Systems Affected: Windows 9x, 2000, XP, Vista, Windows 7
Malware Behavior
Smart Fortress 2012 will exhibit a lot of fake security alerts and warning messages to persuade you into buying the program. In fact, on every alert, it will advise to clean the computer. When you click on "Clean", "Remove", or "OK", the malware will prompt for activation as shown in the image below.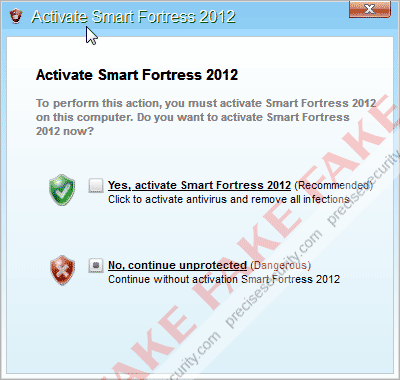 Video Tutorial – Smart Fortress 2012 Removal