Spyware XP Guard is a software specifically designed to lure Windows XP users that it was a legitimate product. Rogue security program such as this relies heavily on misleading tactics to convince user into considering Spyware XP Guard. One famous technique by this bogus program is to exhibit alerts containing false information such as "virus attack," "malware presence," and "hacker's intrusion."
Remember that rogue program is created primarily as a moneymaking device for its authors. In order to persuade user to spend for Spyware XP Guard, a convincing approach is needed. Therefore, aside from fake security warnings, authors design the program to perform virus scanning every time Windows boots. It will report a number of identified threats as additional deception method.
This malware arrives on the computer as a companion to a Trojan. Typically, Trojan Downloader is the most responsible in spreading Spyware XP Guard to computers that are linked via the Internet. User may acquire this threat from malicious web sites or as an attached file to spam email messages. It strikes Windows registry as soon as it enters the PC. The malware will add some modules to include the malware on start-up process.
If a presence of Spyware XP Guard is spotted on the computer, carry out a thorough virus scan at once using only real anti-malware program. For computer savvy users, the malware can be eliminated by removing files and registry entries.
Screenshot Image: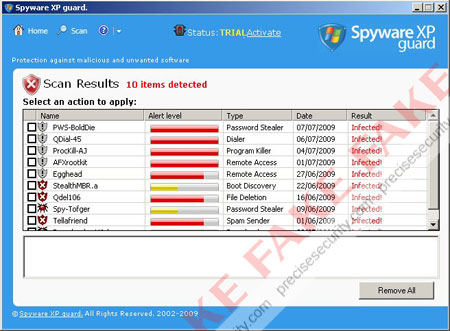 Technical Details and Additional Information:
Damage Level: Medium
Systems Affected: Windows 9x, 2000, XP, Vista