System Recovery is a virus in disguise. More often than not, System Recovery is mistakenly accepted as useful utility software. Without any knowledge that it was solely developed to be sold in fraudulent method, most users who bump onto this rogue software may end up searching for registration code. Some even consume the useless product for a certain amount of money believing that System Recovery will resolve issues detected by the same malware on their machine.
Computer Trojan is mainly used as a tool to spread System Recovery virus. Surely, Trojans are capable of pounding the system and evade installed antivirus product. Lately, Trojans are developed in a more complex mode that cleverly hides presence on the affected unit. Aside from that, System Recovery virus may come bundled with fake Adobe Flash update that flashes on desktop task bar urging users to download a file. A single click on these mentioned courses of actions by fraudster will begin invisible installation of the rogue program.
Visibility of infection begins with extensive pop-up alerts and messages exhibited on desktop. Primarily, these alerts will contain warnings on severe errors and damages found locally. Similar to preceding variants, these alerts seems accurate in the impression of innocent users. However, after several test, it reveals that those are falsified and untrue.
Screen Shot Image: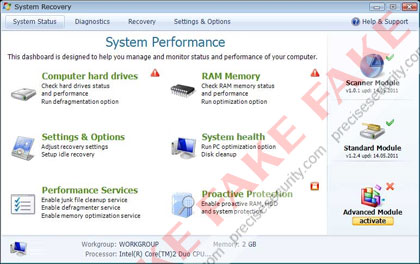 Technical Details and Additional Information:
Damage Level: Medium
Systems Affected: Windows 9x, 2000, XP, Vista, Windows 7