System Security 2011 is a rogue security software that will spread using various names but having similar skin for their console. To site an example, you may look at another variant called Cloud Protection. Although their titles and looks seem harmless, what rest behind it is full of deception and lies.
System Security 2011 is a rugged piece of malicious program that sneaks on your computer relentlessly. It invades the system through Internet browser's flaw that opens-up space for the entry of System Security 2011 and allied Trojan. Once it looms into the center of your system, this malware will end processes that belong to security software causing anti-virus program to stop working. Moreover, it selfishly disabled Windows system tools including task manager and registry editor. The main purpose for this behavior is obviously to avoid System Security 2011's manual removal.
Authors at the back of this malware know that latest security tool can counter their attack. This is why, blocking of Internet access is within the malware's payload. It will set the Internet browser to re-route to a local address to avert retrieving the needed page particularly if it has to do with anti-virus software update. Windows hosts file is also a target to bring same effect.
To some, with disabled tools and programs, it appears so impossible to remove System Security 2011. However, there is a work around to this issue. There are other devices not foreseen by the attacker that will eliminate the presence of System Security 2011. This method is clearly shown on 'How to Remove' area of this page.
Screen Shot Image: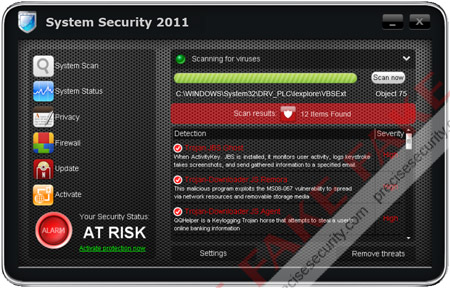 Technical Details and Additional Information:
System Security 2011 Is Also Detected As:
Trojan/Win32.FakeAV (AhnLab-V3), Win32:Cycbot-NO (Avast), Generic25.AKCZ (AVG), Trojan.Win32.Heur.Gen (ClamAV), Trojan.PWS.Siggen.28960 (DrWeb), Win32:Cycbot-NO (GData), Win32/Kryptik.ALL (NOD32)
Damage Level: Medium
Systems Affected: Windows 9x, 2000, XP, Vista, Windows 7
Characteristics (Analysis)
System Security 2011 belongs to a group of rogue security programs. Rogues are different from Trojans and viruses. They do not replicate once executed on the computer. However, this does not mean the rogue applications are not detrimental. They are equipped with modules that able to communicate with a remote server and download more potential threats.
Malware Behavior
While still on the system, System Security 2011 will repeatedly produce fake security alerts. By extensively providing these alerts, authors of this malware anticipate that victims will compel to obtain the registered version of System Security 2011. Some of the alerts that contain false information are:
Security Warning
The file "file name.exe" is infected. Running of application is impossible. Please activate your antivirus software.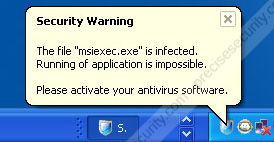 Security Warning
Your computer continues to be infected with harmful viruses. In order to prevent permanent loss of your information and credit card data theft please activate your antivirus. Click here to enable protection.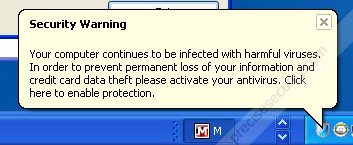 svchost.exe was replaced with unauthorized program. It has encountered a problem and needs to close.
If you were in the middle of something, the information you were working on might be lost.
Please tell Microsoft about this problem.
We have created an error report that you can send to us. We will treat this report as confidential and anonymous.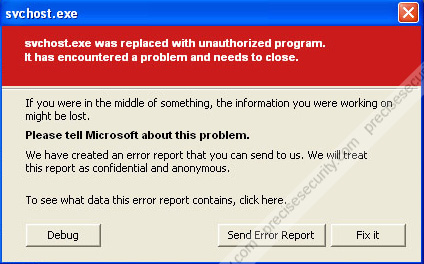 If user clicks on button to "fix" or "remove" detected threats and identified problems, System Security 2011 will open a new browser window asking for personal information and credit card details. This is a fraud payment processor for the rogue program.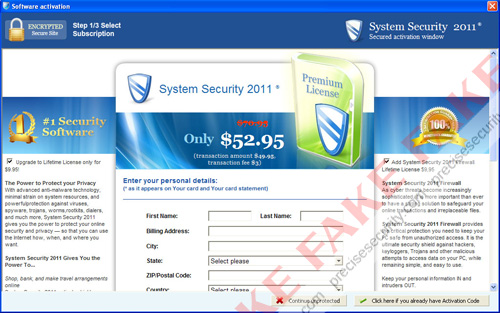 Video Tutorial (System Security 2011 Removal)