Think Point, which is also known as ThinkPoint virus is part of a fake Microsoft Security Essentials Alert. Think Point is being advertised as one of the five removal tool that may get rid of any infection found on computer. Initial infection will result to malfunction of Windows desktop, removing all icons and displaying nothing but fake alert message stating virus presence. An attempt to clean this malware will open up a new window displaying multiple virus scanners but only five rogue programs are able to identify the infection, and that includes Think Point.
Executing any of the endorsed rogue product will allow itself to be installed on the system. Having it on the PC will provide various annoyances including blocked Internet access, browser hijacking and system malfunction. It's hard to believe that this destructive virus also obstruct Safe Mode start-up. Trying to run any installed applications will be blocked by Think Point and instead it releases warning message stating that executable file is already compromised. It appears like there is no other way to get rid of ThinkPoint at this moment.  All of these displeasure carried out on the computer aims to persuade users into getting the licensed version of useless software called Think Point.
Screenshot Image: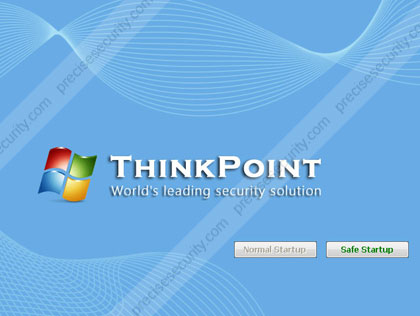 If you see the introduction window. Do not click on "Safe Startup" to prevent installation of Think Point. Restart Windows immediately and perform a virus scan.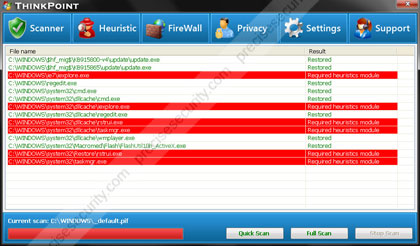 Alias: ThinkPoint Virus
Technical Details and Additional Information:
Damage Level: Medium
Systems Affected: Windows 9x, 2000, XP, Vista, Windows 7
Malware Behavior
Think Point will prevent all applications from running. Any attempts to run a program will pop-up a window containing this message:
The application file.exe was launched successfully but it was forced to shut down due to security reasons.
This happened because the application was infected by a malicious program which might pose a threat for the OS.
It is highly recommended to install the necessary heuristic module and perform a full scan of your computer to exterminate malicious programs from it.
How to Remove Think Point
Think Point Removal Tool
This guide requires a tool called Malwarebytes' Anti-Malware. It is a free tool designed to eradicate various computer infections. MBAM scanner is distributed for free.
1. Download Malwarebytes' Anti-Malware. Save the file on your Desktop or any desired location as long as it is accessible to you.
2. When finish downloading, double-click on the file mbam-setup.exe to install the application.
3. Follow the prompts and install with default configuration.
4. Before the installation completes, you need to update the database.
5. Click Finish. Program will run automatically and you will be prompt to update the program before doing a scan. Please update.
6. When update is finished please exit MBAM. We have to reboot your computer in Safe Mode.
- Press F8 repeatedly on your keyboard right before Windows logo begins to load.
- Windows Advanced Options menu will appear.
- Select Safe Mode.
7. If Windows is already on Safe Mode. Locate Malwarebytes' Anti-Malware icon and run. Select Perform full scan to check your computer thoroughly.
8. When scanning is finished click on Show Results.
9. Make sure that all detected threats are checked, click on Remove Selected. This will delete all files and registry entries that belongs to Think Point.
10. Restart your computer.
Note: If Think Point prevents mbam-setup.exe from downloading. Download the software from another computer. Renaming it to something like 'anything.exe' can help elude the malware.
Alternative Removal Method for Think Point
Option 1 : Use Windows System Restore to return Windows to previous state
If Think Point enters the computer, there is a big chance that Windows files, registry entries and other essential components are also infected. System Restore can reinstate clean system files by restoring the configuration to an earlier date. The method also replaces compromised files with a clean version. If you have a saved restore point before Think Point infiltrates the PC, we highly encourage you to execute this procedure if none of the above works. You may proceed with Windows System Restore, click here to see the full procedure.
Option 2 : Think Point manual uninstall guide
IMPORTANT! Manual removal of Think Point requires technical skills. Deleting system files and registry entries by mistake may result to total disability of Windows system. We advise you to perform a backup of registry before proceeding with this guide.
1. Kill any running process that belongs to Think Point.
- Press Ctrl+Alt+Del on your keyboard.
- When Windows Task Manager appears, look for Think Point files (refer to Technical Reference) and click End Process.
2. Delete all registry entries that belong to this malware.
- Press [Windows Key]+R on your keyboard.
- In the 'Open' dialog box, type regedit and press Enter. This will open registry editor.
- Find and delete registry entries as mentioned in Technical Reference section below.
- Close registry editor. Changes made will be save automatically.
3. Scan the computer with antivirus program.
- Connect to Internet and open your antivirus software. Please update to obtain the latest database and necessary files.
- Restart the computer in Safe Mode.
- Just before Windows logo begins to load press F8 on your keyboard.
- On Windows Advanced Boot Options, select Safe Mode and press Enter.
4. Delete all files dropped by Think Point.
- While still in Safe Mode, search and delete malicious files. Please refer to 'Technical Reference'. Make sure that you execute 'End Task' first before deleting the file. Otherwise, the system will not let you perform this action.
Associated Files and Folders:Added Registry Entries: