Win 7 Home Security 2012
Win 7 Home Security 2012 is a counterfeit and multi-named software that make itself more distinct from any other rogue programs. It was usually installed by a Trojan that is able to identify target computer's operating system. It will be installed based on the system like Vista Home Security 2012 for Vista system and XP Home Security 2012 for XP systems. But no matter how and where it is installed, it still remains a rogue program that must be removed right away. Its occurrences will produce several annoyances like browser redirection, malfunctioned AV programs or blocking of Internet access.
Win 7 Home Security 2012 will be installed without a component on Add/Remove programs of Windows. It was intentionally installed without an option to remove unless a paid version is obtained. It will also disable any Windows functionalities such as task manager, registry editor and folder option to avoid manual removal. The only sure way to remove Win 7 Home Security 2012 virus is to download an effective and trusted anti-malware application like the one stated below. After installation, make sure that it has the latest patter files and database to catch all latest viruses that belongs to Win 7 Home Security 2012.
Screen Shot Image: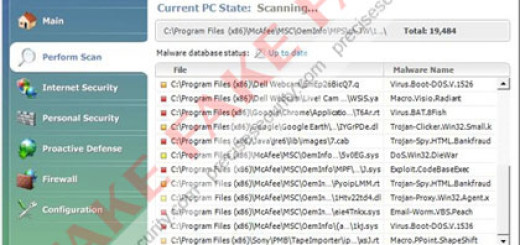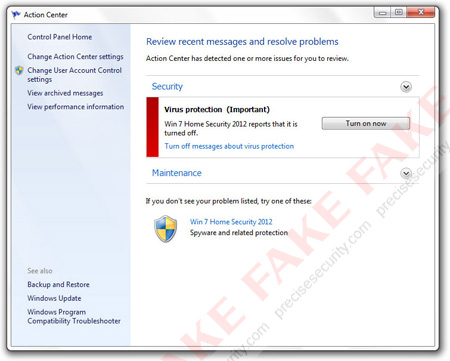 Technical Details and Additional Information:
Win 7 Home Security 2012 Is Also Detected As:
TR/Crypt.ZPACK.Gen8 (AntiVir), Win32/Cryptor (AVG), Trojan.FakeAv.MDN (BitDefender), Trojan.FakeAv.MDN (F-Secure), W32/FakeAV.NO!tr (Fortinet), Trojan.FakeAv.MDN (GData), Trojan.Win32.FakeAV.jvjs (Kaspersky), FakeAlert-Rena.bv (McAfee), Mal/FakeAV-PP (Sophos),
Damage Level: Medium
Systems Affected: Windows 9x, 2000, XP, Vista, Windows 7
Malware Behavior
It is common to all rogue security applications including Win 7 Home Security 2012 to fabricate various security alerts in order to mislead its victims. These fake alerts usually pop-up from the system tray and pretends to be a legitimate warning from Windows system. Some of the fake security warning may contain the following text:
Win 7 Home Security 2012 Alert
Critical system alert!
Unknown software is trying to take control over your system!
Details
Attack from: 178.145.22.51 port:51052
Attacked port: 54228
Threat: Email-Worm.JS.Gigger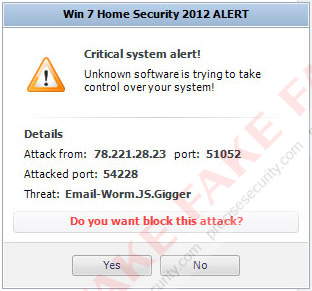 Attention: DANGER!
ALERT! System scan for spyware, adware, trojans and viruses is complete. Win 7 Home Security 2012
detected 25 critical system objects. These security breaches may be exploited and lead to the following:
- Your system becomes a target for spam and bulky, intruding ads
- Browser crashes frequently and web access speed decreases…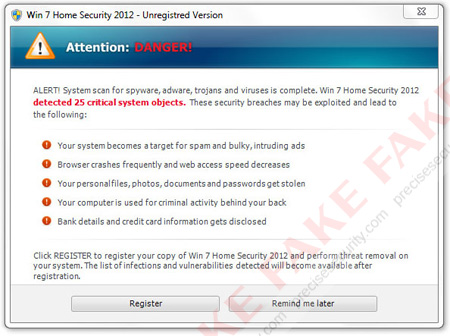 [cf]regis[/cf] [cf]files[/cf]
Video Tutorial (Win 7 Home Security 2012 Removal)
How to Remove Win 7 Home Security 2012
Activating the Rogue Program
Win 7 Home Security 2012 will block running of any programs. It also prevents access to Internet particularly anti-virus web sites. Execution of Windows tools like Task Manager, Registry Editor and Control Panel is similarly block by the rogue program. Activating the program using the registration key below will regain access to the mentioned services.
Activation Code: 3425-814615-3990
Once activated, downloading of necessary program to scan and remove Win 7 Home Security 2012 is now possible.
Automatic Removal Procedure
1. First thing to do is to reboot the computer in Safe Mode with Networking to avoid Win 7 Home Security 2012 from loading at start-up. You may want to print this procedure as we have to restart the computer to complete the removal process.
- Restart the computer.
- Before Windows begins to load, press F8 on your keyboard.
- It will display an Advanced Boot Options menu. Please select Safe Mode with Networking.
- Windows will now start in Safe Mode.

2. Download removal software and save it on your Desktop or any location on your PC.
3. When finish downloading, double-click on the file to install the application.
4. Follow the prompts and install with default configuration.
5. Before the installation completes, you need to update the database.

6. Click Finish. Program will run automatically and you will be prompt to update the program before doing a scan. Please update.
7. When finished updating, the tool will run. Select Perform full scan on main screen to check your computer thoroughly.
8. When scanning is finished click on Show Results.
9. Make sure that all detected threats are checked, click on Remove Selected. This will delete all files and registry entries that belongs to Win 7 Home Security 2012.
10. Restart your computer.
Note: If Win 7 Home Security 2012 prevents mbam-setup.exe from downloading. Download the software from another computer. Renaming it to something like 'anything.exe' can help elude the malware.
Alternative Removal Method for Win 7 Home Security 2012
Option 1 : Use Windows System Restore to return Windows to previous state
If Win 7 Home Security 2012 enters the computer, there is a big chance that Windows files, registry entries and other essential components are also infected. System Restore can reinstate clean system files by restoring the configuration to an earlier date. The method also replaces compromised files with a clean version. If you have a saved restore point before Win 7 Home Security 2012 infiltrates the PC, we highly encourage you to execute this procedure if none of the above works. You may proceed with Windows System Restore, click here to see the full procedure.
Option 2 : Win 7 Home Security 2012 manual uninstall guide
IMPORTANT! Manual removal of Win 7 Home Security 2012 requires technical skills. Deleting system files and registry entries by mistake may result to total disability of Windows system. We advise you to perform a backup of registry before proceeding with this guide.
1. Kill any running process that belongs to Win 7 Home Security 2012.
- Press Ctrl+Alt+Del on your keyboard.
- When Windows Task Manager appears, look for Win 7 Home Security 2012 files (refer to Technical Reference) and click End Process.
2. Delete all registry entries that belong to this malware.
- Press [Windows Key]+R on your keyboard.
- In the 'Open' dialog box, type regedit and press Enter. This will open registry editor.
- Find and delete registry entries as mentioned in Technical Reference section below.
- Close registry editor. Changes made will be save automatically.
3. Scan the computer with antivirus program.
- Connect to Internet and open your antivirus software. Please update to obtain the latest database and necessary files.
- Restart the computer in Safe Mode.
- Just before Windows logo begins to load press F8 on your keyboard.
- On Windows Advanced Boot Options, select Safe Mode and press Enter.
4. Delete all files dropped by Win 7 Home Security 2012.
- While still in Safe Mode, search and delete malicious files. Please refer to 'Technical Reference'. Make sure that you execute 'End Task' first before deleting the file. Otherwise, the system will not let you perform this action.
Technical Reference
Associated Files and Folders:Added Registry Entries: