Win 7 Total Security is a fake computer anti-virus application. Win 7 Total Security 2011 virus offers a variety of computer protection features such as virus scan, Internet security, personal security, proactive defense and firewall. However, all of these are non-performing and was just an odd display on its graphical user interface. After deep analysis, it was found that Win 7 Total Security 2011 does not have the essential parts to act as fully functional security software. In fact, this rogue program is a piece of malware from a large group of fake AV products. Members of this family are able to detect victim's operating system and install necessary version of the malware. In this case, the targeted PC is operated under Windows 7.  Windows XP systems will have XP Total Security 2011 while Windows Vista will cover Vista Total Security 2011. These rogue programs are able to propagate through unfair promotional method like fake online virus scanner and spam email messages. Presence of Win 7 Total Security 2011 on one's system will provide severe damages that will result to browser redirection, block execution of any software and modified desktop wallpaper.
It is important to remove Win 7 Total Security 2011 virus immediately and prevent any more harm on the computer. You may never notice it, but as long as Win 7 Total Security 2011  is residing on the system, it will attempt to connect to a remove server and download more threats. It may carry out several system settings that may fully disable the current security setup of your PC. At this point, it is necessary to thoroughly scan the computer with anti-malware program and delete any detected threats. Repeat the process while in SafeMode to find all files that are still hiding on the system.
Screenshot Image: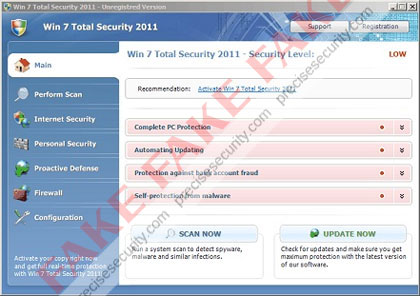 Technical Details and Additional Information:
Damage Level: Medium
Systems Affected: Windows 9x, 2000, XP, Vista, Windows 7
Malware Behavior
The only obvious symptoms from this virus are a barrage of fake security warnings and recurring virus scanning. Aside from this, Win 7 Total Security 2011 may perform other malicious activities like the following:
Contact a remote server to download more threats.
Update its configuration file to strengthen its presence.
Open a backdoor port to allow unauthorized remote control.
Find and end processes that belong to security software.
Disable Internet connection particularly wireless network transmission on the infected computer.