"Windows Advanced Security Center" is a fake antivirus program. On some PC, this will show up as a pop-up message that will give false information regarding computer's status. However, most of the time, Windows Advanced Security Center is built-in to a rogue program. It will serve as a scanner that mimics the real Windows Security Center.
Malware that are linked to this fake security software has got into the system for a huge number of computers worldwide. Users who keep their trust on the ability of Windows Advanced Security Center ended up with more troubles with their systems. That is because the tool is a real fraud in all aspects. Thus, we always warn computer users like you to avoid committing the same fault as what other did. Keep away from this unsafe software. It will not cause anything worthy for your computer no matter how valid it may appear to you.
Once you see a presence of fake Windows Advanced Security Center, which image appears below, immediately run an antivirus scan. It is also safer if you could disconnect the computer from the Internet to avoid downloading of more threats. This malware intends t link your computer to a distant server to fetch more harmful files. Use the guide on this page to remove Windows Advanced Security Center.
Screenshot Images: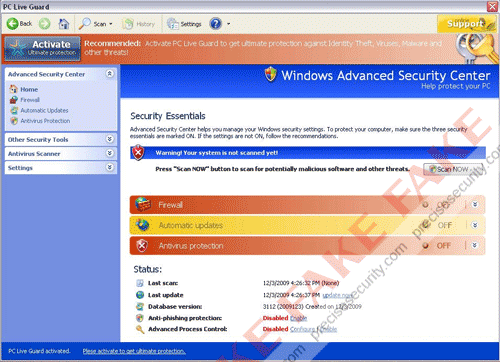 Image below is a fake Windows Advanced Security Center pop-up. This alert will contain a fake message.
Windows Advanced Security Center
Hep protect your PC
The system is not able to start its work properly. There is a system check needed, that will speed up its functionality. This check and tune-up is now in progress. To fix the problem please register your copy of antivirus software.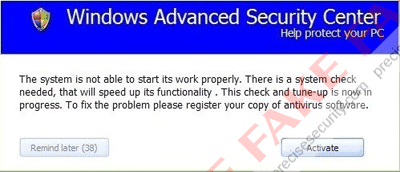 Technical Details and Additional Information:
Damage Level: Medium
Systems Affected: Windows 9x, 2000, XP, Vista, Windows 7