Windows Antivirus Patch is another fake software that will invade your computer in risky manner. It will make you believe that the system is under attack. The rogue program will produce different kinds of misleading alerts and warnings trying to support its claim. Moreover, this virus will display a huge amount of identified threats in your computer. After that, Windows Antivirus Patch tries to convince you that it is the rightful tool to solve the issue. It advises to purchase the registration key in order to carry out virus removal at once.
You should not believe on what Windows Antivirus Patch is trying to impel. It just drives you to a fraud online transaction. Because if you do what it suggest, it redirects the Internet browser to a payment web site where they can extract your credit card details. Be wary, upon executing the deal, attackers may record your account details and use it without consent.
So, to give you some pointers on the proper way to deal with Windows Antivirus Patch, we are providing an easy to follow guide below this page. Your first move is to remove Removing Windows Antivirus Patch without spending a dime. Just ignore the rogue program and focus on getting rid of it from the computer. A tool is also included on this guide to make sure that you can eliminate any remnants of the malware.
Screenshot Image: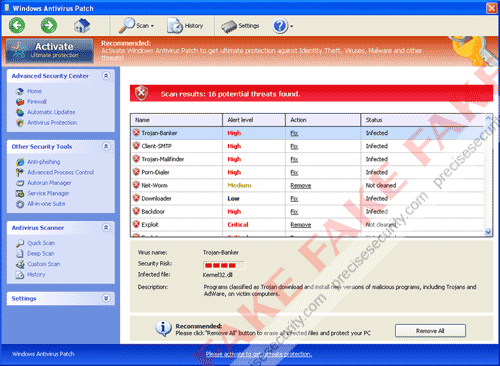 Technical Details and Additional Information:
Damage Level: Medium
Systems Affected: Windows 9x, 2000, XP, Vista, Windows 7