Some computer users can mistakenly accept Windows Custom Safety as good software. But wait until it reveals it true identity. It will be too late for a user who turned victim to this malware. Once it is installed, there is no turning back. You cannot uninstall it the way you remove ordinary software from Windows. Add/Remove entry for Windows Custom Safety does not exist. Attacker behind this program intentionally excludes this feature to retain the malware inside victim's PC. Its motive is simple – let the affected computer be a hostage of this malignant software. For normal computer user, it is hard to find a way to uninstall Windows Custom Safety without buying its registered version. Most of them end up on payment processing page, acquiring what we recognized as fake antivirus program.
We call it fake because if it enters the computer, you will see a virus scan initiated by this software. Then, it will produce a number of artificial results. Here is the screenshot image of Windows Custom Safety malware.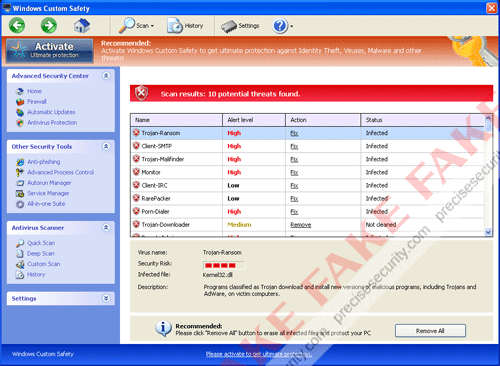 If you fall as victim to this malware, we highly advised you to follow the removal procedure on this page. Ignore all alerts, endorsements, and advises by Windows Custom Safety. It is fictitious. Believe us; no other threat is present on your computer other than this rogue security program. Remove it, and you will see that what we predict about this product is accurate.
Technical Details and Additional Information:
Damage Level: Medium
Systems Affected: Windows 9x, 2000, XP, Vista, Windows 7