Windows Efficiency Manager
Windows Efficiency Manager is a fake optimization tool that will be distributed by means of fake multimedia web sites. It can also be acquired by executing malicious links from instant messaging application sent by an infected contacts. If Windows Efficiency Manager is installed, several irregularities will be experience. This includes a browser redirection that will redirect users requested page to unsolicited web site. Installed anti-virus application will be made useless by ending its running process on the compromised computer. Worst, Windows Efficiency Manager virus will lock computer's desktop and prevent any applications from running.
These problems were brought to victim's attention in order to force users into obtaining the licensed version of Windows Efficiency Manager. It will also promote the rogue applications as the real solution to computer problems and persuade users into paying for the licensed version.  Instead of acquiring this useless application, victims must scan the PC with a trusted anti-malware application that will totally remove Windows Efficiency Manager and all of its associated files.
Windows Efficiency Manager Screen Shot: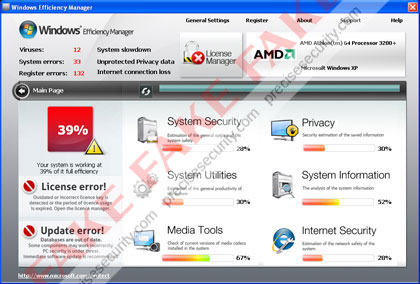 Damage Level: Medium
Systems Affected: Windows 9x, 2000, XP, Vista, Windows 7
Windows Efficiency Manager Removal Procedures
Windows Efficiency Manager Removal Tool:
In order to completely remove the threat, click here to download and run Malwarebytes Anti-Malware. Sometimes, Trojans will block the downloading and installation of MBAM. If this happens, download it from a clean computer and rename the executable file before executing on the infected machine.
Using Portable SuperAntiSpyware:
To thoroughly remove the virus, it is best to do a separate scan of another security program so that other infected files not detected by anti-virus application can be remove as well. Click here to download and run SAS Portable Scanner.
Online Virus Scanner:
Another way to remove a virus without the need to install additional anti-virus application is to perform a thorough scan with free Online Virus Scanner that can be found here or on websites of legitimate anti-virus and security provider.
Alternative Removal Method for Windows Efficiency Manager
Option 1 : Use Windows System Restore to return Windows to previous state
If Windows Efficiency Manager enters the computer, there is a big chance that Windows files, registry entries and other essential components are also infected. System Restore can reinstate clean system files by restoring the configuration to an earlier date. The method also replaces compromised files with a clean version. If you have a saved restore point before Windows Efficiency Manager infiltrates the PC, we highly encourage you to execute this procedure if none of the above works. You may proceed with Windows System Restore, click here to see the full procedure.