Windows Emergency System is a common fake computer security application that will be installed by means of an associated Trojan with users consent. In most cases, Windows Emergency System will be presented on a fake online virus scanner that instantly run a virus scan on visitors computer. Several threats will be detected and prompt user that a copy of the said software should be downloaded and installed on the computer. If this was executed, an unregistered version of Windows Emergency System will be loaded. Once on the system, this fake AV will initiate a local virus scan and again will alert users of possible threats detected. At this point it will advise victims to proceed to payment web site and obtain a Windows Emergency System registration key which is not for free.
As observed, it was designed to deceive users with fake virus scans and false security alerts. Promoted as a security program but was lack of capabilities to remove virus neither protect a system from virus attack. It is best to remove Windows Emergency System virus sooner as it was observed on the computer. The longer it stays on the system the more damage it can create when it attempts to connect to a remote server and download additional malicious files.
Windows Emergency System Screen Shot: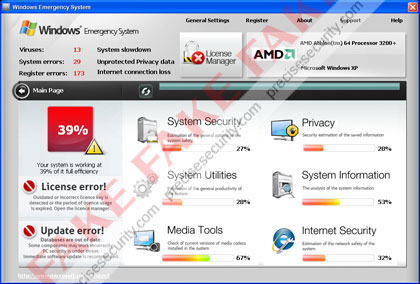 Damage Level: Medium
Systems Affected: Windows 9x, 2000, XP, Vista, Windows 7
Windows Emergency System Removal Procedures
Windows Emergency System Removal Tool:
In order to completely remove the threat, click here to download and run Malwarebytes Anti-Malware. Sometimes, Trojans will block the downloading and installation of MBAM. If this happens, download it from a clean computer and rename the executable file before executing on the infected machine.
Using Portable SuperAntiSpyware:
To thoroughly remove the virus, it is best to do a separate scan of another security program so that other infected files not detected by anti-virus application can be remove as well. Click here to download and run SAS Portable Scanner.
Online Virus Scanner:
Another way to remove a virus without the need to install additional anti-virus application is to perform a thorough scan with free Online Virus Scanner that can be found here or on websites of legitimate anti-virus and security provider.