Windows Restore virus is another type of rogue hard drive utility application that utilizes proficiency of Trojan towards infecting the system unobserved even with security programs in place. Windows Restore virus can penetrate a computer without being detected while facilitating sophisticated rootkit technology. Once contained on victim's computer, it will start to generate excessive alert messages exerting all efforts to induce users about occurrences of system errors. In addition, automatic virus scan is launched each time Windows is started to deceive users that numerous executable files are damaged. Similar to rightful optimization program, Windows Restore will advise to fix these errors. The only hint that Windows Restore is a scam application is when it begins to force users into paying for the registered version before any fix can be completed on the system.
Disregard Windows Restore together with all of the warnings and prompts presented. A single click on any of those buttons may lead to harmful consequences. The best approach for this scenario is to download and execute effective security solution that does not only remove Windows Restore but also watch over for imminent attack.
If presence of Windows Restore is uncovered, immediately run a full scan of suggested anti-malware program. Ensure that latest database is stored to fully identify malevolent files that are connected to Windows Restore.
Screen Shot Image: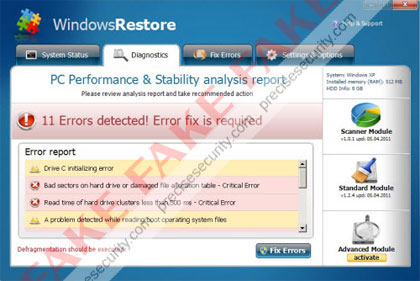 Damage Level: Medium
Systems Affected: Windows 9x, 2000, XP, Vista, Windows 7