Windows SafeMode software is a fake application that attempts to mislead computer users with fake hard drive error. Windows Safe Mode virus will state that there are several hard disk problems particularly on boot sector. It will advise to install the licensed version of the program that will end up users paying for this unwanted application via their own online payment web site. It will display the following messages to trick its victims:
Scanning for hard drive errors…
Hard drive scan helps detect and resolve hard disk problems and system performance issues. This may take a few minutes, please wait
Windows detected a hard disk problem
Windows detected a file index error caused by boot sectors problem. Install recommended software to fix detected error.
Install Windows Safemode software (recommended)
windows Safemode is a professional software toolkit designed to detect identify and fix hard ware memory related problems on a windows based computers.
Obviously, this text will appear even on a problem-free PC its primary intention was to scare victims and make believe that system is having troubles. According to the report, only a paid version of Windows SafeMode will be able to fix those errors. Leave this program alone and begin to download a copy of legitimate anti-malware software stated below. Do a full scan of the computer and let it detect Windows SafeMode as one of the rogue applications currently infecting thousands of computers. We all know that rogue program's intention is to spread illegally. Obviously it will not provide any positive effects towards the end user.
Screen Shot Image: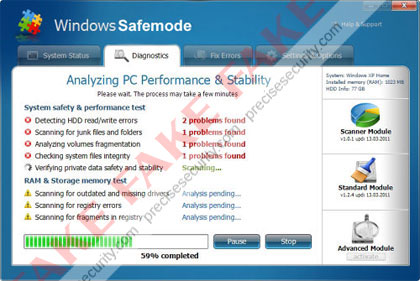 Technical Details and Additional Information:
Damage Level: Medium
Systems Affected: Windows 9x, 2000, XP, Vista, Windows 7