Wireshark Antivirus is a bogus security application that will install itself on computers without user's permission. Wireshark Antivirus is different and not developed by CACE Technologies as assumed by some victims. Instead, it is a rogue program developed to mislead computer users. Other potentially unwanted application that comes from the same group of fraud software includes Sysinternals Antivirus and Your PC Protector. Several studies shows that Wireshark Antivirus can easily penetrate a computer and secretly configures itself to run each time Windows starts. It can accomplish by modifying the registry and adding its own entry.
Fake antivirus web sites and Trojans are responsible in propagating Wireshark Antivirus via Internet and email messages. This malware may also disguise as legitimate software update for Adobe programs.
Commonly, unwanted program such as Wireshark Antivirus will attempt to trick and convince user to purchase the registered version. However, since it was fake, expect that having the full version will have no benefits for end users. We advise an immediate removal of Wireshark Antivirus as soon as a presence is detected on the computer. Make sure to remove all hidden malicious file related to this unwanted program. This can be done by running both legitimate anti-virus and anti-malware software.
Screen Shot Image: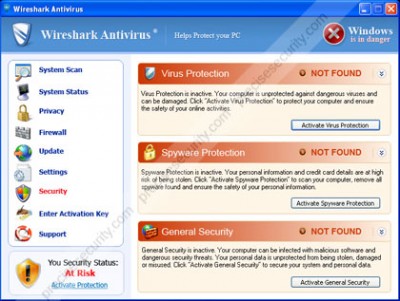 Technical Details and Additional Information:
Damage Level: Medium
Systems Affected: Windows 9x, 2000, XP, Vista
Malware Behavior
Wireshark Antivirus will produce many fake security warnings. It also disturbs computer operation by constantly displaying system tray alerts stating several infections are detected. Additionally, this malware will prohibit execution of installed programs and shows up the following warning:
Security Warning:
The file C:\Program Files\[program name] is infected.
Running of application is impossible.
Please activate your antivirus software.