XP AntiSpyware 2011 is a misleading security software. A program aims to trick computer users with fake alerts and warning messages. It may get into the system without users knowledge by means of a Trojan. The Trojan is able to evade your antivirus program with its own sophisticated method. Security experts are calling this skill as rootkit technique.
Coming from the same family as Vista AntiSpyware 2011 and Win 7 AntiSpyware 2011, they share the same design. What separates them from one another is their title. These rogue programs will tweak Windows registry to place itself on the start-up items. To gain full control over the system, XP Anti-Spyware 2011 loads its module right after Windows starts. Once loaded, it has the power to block your software, particularly antivirus program.
Remove XP Anti-Spyware 2011 and if you want to stop any fault from your system. This fake AV software is the culprit for system's misbehavior. The main objective of rogue software is to provide false data regarding computer's security status. It will try to force users into obtaining the full version of the program. Showing misleading alerts and fabricated scan results is one tactic it will use to deceive victims. The only way to get rid of XP Anti-Spyware 2011 from the PC is to scan it with real security program. It is best to use anti-malware software as stated below.
Screenshot Image: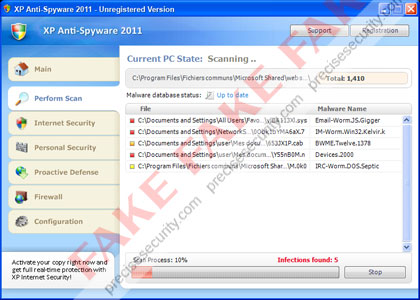 Technical Details and Additional Information:
Alias: Vista Antispyware 2011, Win 7 Antispyware 2011
Damage Level: Medium
Systems Affected: Windows XP
Malware Behavior
While XP AntiSpyware 2011 is present on the computer, it will produce too much fake security warnings. This is its own method of pushing user to purchase the licensed version of the software. Some of the fake messages may have these contents:
System danger!
Your system security is in danger. Privacy threats detected. Spyware, keyloggers or Trojans may be working the background right now. Perform an in-depth scan and removal now, click here.

Stealth intrusion!
Infection detected in the background. Your computer is now attacked by spyware and rogue software. Eliminate the infection safely, perform a security scan and deletion now.
Moreover, system tray firewall alert is also used to mislead victims into thinking that PC is under virus attack. It states that Internet browser program is infected with a Trojan. It requires immediate activation of XP AntiSpyware 2011.