XP Home Security 2012 is a program that will display exaggerated warning messages once installed on the computer. XP Home Security 2012 is a virus that belongs to a large family of rogue program that uses the Internet to spread them. Taking advantage of victim's weakness in identifying real security issues, it will fabricate virus scan results to force users into acquiring the paid version of the program. While XP Home Security 2012 is still present on the computer, a continuous pop-up of false warning can be observed. Stopping these annoyances does not necessary mean that a full version of XP Home Security 2012 is needed. In fact, it is the sole application that must be eliminated.
Commonly, XP Home Security 2012 virus can be acquired by visiting malicious web sites that will pretend as online virus scanner. When visited these pages will greet visitors with a warning displaying the following message:

Message from webpage
Windows Security has found critical process activity on your system and will perform fast scan of system files.
Remove XP Home Security 2012 virus using only real security product like the one recommended on this page. Purchasing the program will not help bring back computer to its normal working state, instead it may worsen the system. Additionally, credit card used on the transaction can be used by rogue developer for other fraudulent operation.
Screen Shot Image: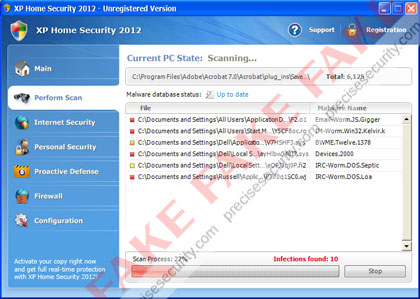 Technical Details and Additional Information:
Damage Level: Medium
Systems Affected: Windows 9x, 2000, XP, Vista, Windows 7
Malware Behavior
If XP Home Security 2012 is installed, it will begin to display fake alerts as an scare tactics to mislead victims:
System Hijack!
System security threat was detected. Viruses and/or spyware may be damaging your system now. Prevent infection and data loss or stealing by running a free security scan.
Privacy threat!
Spyware intrusion detected. Your system is infected. System integrity is at risk. Private data can be stolen by third parties, including credit card details and passwords. Click here to perform a security repair