XP Security 2012 is a rogue program that extends its infection to as many users with the support of fake security web sites. Spreading with the help of Trojan, it targets people who are browsing the Internet more often. It enters the computer in an unusual way and instantly loads a copy of XP Security 2012 without permission. XP Security 2012 installation will begin as soon as all files are complete inside the system. With its rootkit techniques, it able to hide a presence from legitimate security software. Once inside the system, this malicious antivirus modifies system settings and begins to add values on the registry. The same counterfeit AV will engage browser hijacking to redirect search result link to predefined web sites that hosts other threats.
Browser redirection will cause so much danger on victim's computer. Downloading of additional threats from unfamiliar web sites produces more harm for the end user. At this point, XP Security 2012 sees to it that no hindrance will cross its path. The malware will reduce presence of legitimate security application by ending its processes and deleting required files, enough to make it useless. It issues excessive fake warning and alert messages stating virus infection and virus attack. One sample fake notice follows:
Threat detected!
Security alert! Your computer was found to be infected with privacy-threatening software. Private data may get stolen and system damage may be severe. Recover your PC from the infection right now, perform security scan.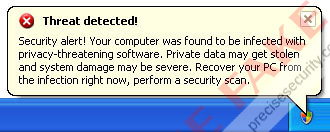 On each Windows boot-up, virus scan will detect dozens of fabricated threats. In the end, it advises to purchase XP Security 2012 in order to clean the computer. All the actions and marketing strategies of XP Security 2012 may lead to acquisition of its full version. Ignore it as much as possible. A genuine security program such as anti-virus and anti-malware is applicable to fight rogue software and other sorts of infection. Remove XP Security 2012 and all the components related to it at the earliest possible time.
Screen Shot Image: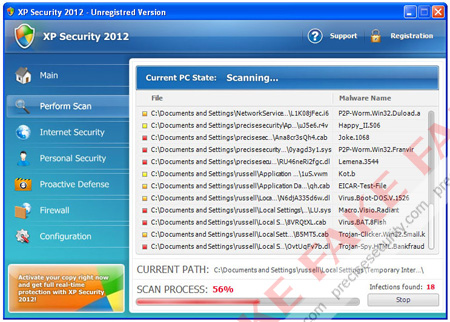 Technical Details and Additional Information:
Damage Level: Medium
Systems Affected: Windows XP
Malware Behavior
While XP Security 2012 is present on the computer, it will prevent execution of any installed application. It will declare that the program is compromised with a Trojan and recommend immediate activation to remove the infection. The message will be as follows:
XP Security 2012 Firewall Alert
XP security 2012 has blocked a program from accessing the Internet.
File.exe is infected with Trojan-BNK.Win32.Keylogger.gen
Private data can be stolen by third parties, including credit card details and passwords.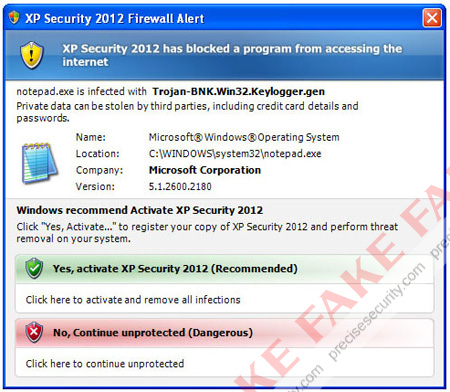 Video Tutorial (XP Security 2012 Removal)