BitCoinMiner-U
Contents of this article pertain to BitCoinMiner-U. This page includes description, technical aspects, and removal guide to delete the threat from your computer.
BitCoinMiner-U is a detection for a variant of Trojan that will maximize infected computer's resources in order to generate digital coins. In order to create coins, the program requires needs to finish a difficult computation using extensive resources. For this reason, affected computer may experience extreme slowdown on system performance. Aside from this, BitCoinMiner-U may also perform other task that leads to identity theft.
When BitCoinMiner-U executes on the computer, it may not do things usually performed by Trojans in general. Unusual task carried out by this Trojan includes a utilization of the infected computer to install BitCoin Miner program. This software is use to create coins via complex computation. Thus, powerful system is essential to execute this action.
There are not much symptoms about this infection except for diminishing performance of the affected PC. However, this concern was resolve by authors in recent release. Latest design of BitCoinMiner-U senses CPU activity. It will only run in full power if there is not much CPU usage, thus, victim remains unsuspicious about its presence.
Other than operating complex algorithm inside victim's computer, BitCoinMiner-U may also cause harmful effects when executed on the system. Due to its involvement in Botnet, authors may have the option to steal sensitive information depending on the type of attack. Some BitCoin Miner programs are equipped with a backdoor Trojan that will allow a remote attacker to gain access on infected comptuer.
Alias: Win32:BitCoinMiner-U [PUP]
Damage Level: Medium
Systems Affected: Windows 9x, 2000, XP, Windows Vista/7
Effective antivirus program can block BitCoinMiner-U before it can attack a computer, as shown in the image below. It is essential that you use security protection with updated database to ensure that PC is safe from virus attack.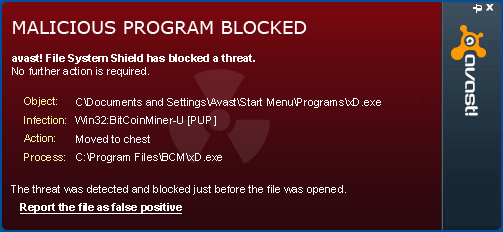 How to Remove BitCoinMiner-U
1. Temporarily Disable System Restore if you are using Windows XP. For Windows Vista/7 users, you may use System Restore to return Windows to a previous clean state. However, you must have a saved restore points to accomplish this. Otherwise, proceed with the removal process.
2. To be able to identify even the most recent variant of BitCoinMiner-U, open your antivirus application and update the virus definition file.
3. Start Windows in Safe Mode with Networking.
- From a power-off state, turn on the computer and press F8 on your keyboard repeatedly.
- Your computer will display Windows Advanced Boot Options menu. Please select Safe Mode with Networking.
- The system will boot Windows loading only necessary drivers and files.
4. Open your antivirus program and run a full system scan. After the scan, delete all infected items. If unable to delete, better place them in quarantine. Once the scan is complete, please proceed with the next step.
Scan with Norton Power Eraser:
Additional virus removal tool provides deep scanning technology to eliminate other threats not detected by a normal virus scan. Use this tool with extra caution.
5. Go to NPE web page and download the tool.
6. Once the download completes, double click on the file NPE.exe to run the program.
7. It will prompt for End User License Agreement, click on Accept to continue.
8. On NPE main window, click on Scan. Then select Exclude Rootkit Scan. Click on Continue to proceed.
9. Virus scanning may take some time. After running the scan, NPE will display the scan result.

Important! If there are any detected threats under Suspicious, remove the check mark. Only threats in Detected category are necessary to remove at this point. Make sure that you mark the Create System Restore Point before proceeding with the fix.
10. Now click on Fix to start removing the threats including BitCoinMiner-U remnants if there are any.
11. When done, Norton Power Eraser will restart the computer. Then after a reboot, it will initialize and display the eliminated threats.
12. You may now close Norton Power Eraser.
Alternative Removal Method for BitCoinMiner-U
Option 1 : Use Windows System Restore to return Windows to previous state
If BitCoinMiner-U enters the computer, there is a big chance that Windows files, registry entries and other essential components are also infected. System Restore can reinstate clean system files by restoring the configuration to an earlier date. The method also replaces compromised files with a clean version. If you have a saved restore point before BitCoinMiner-U infiltrates the PC, we highly encourage you to execute this procedure if none of the above works. You may proceed with Windows System Restore, click here to see the full procedure.